Swiss Re's Higginbotham calls to expand "entrepreneurial energies"
November 12 2020 by Andrew Tjaardstra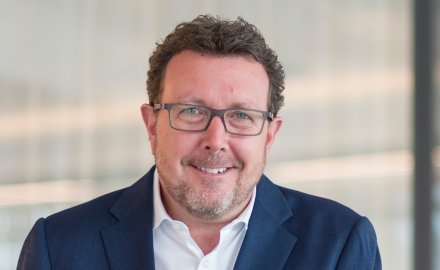 Russell Higginbotham, chief executive reinsurance Asia at Swiss Re, has been reflecting on last week's virtual SIRC and the possibilities for (re)insurers in the region.
Higginbotham (pictured) told InsuranceAsia News: "The fundamental positives around Asia remain – large and growing populations coupled with GDP growth rates above the global average. Despite the Covid-19 crisis, the region remains on track to develop further."
He added a rallying call to the market: "Protection gaps are getting bigger – [and] we as (re)insurers aren't doing enough to close the Asian protection gaps and protect consumers and businesses. This is our call to action – we need to find new customers and expand our entrepreneurial energies on attracting them to buy insurance protection."
Recognising that partnerships will be key, continued "we need to do more to work together, and with wider stakeholders, to develop integrated propositions and solutions that bring affordable risk mitigation to many more millions of people."
Warming to some of the themes at the conference such as the rise of machine learning and AI, he said: "Digitalisation is here to stay – the pandemic has accelerated existing trends – this is largely a good thing as it brings efficiency in process (and therefore cost and time savings) to our customers. We need to use technology to make improvements, where customers want them and not just because we can. Person-to-person interaction, advice and relationships will remain key to (re)insurance."
Despite the difficult year, he is full of optimism, but warns the market has no time to lose to take advantage of heightened awareness.
"There is optimism in this crisis – our research shows that the awareness and importance of insurance is much higher in consumers' minds than ever before, as a result of the pandemic. This likely won't last forever, but we need to use this heightened awareness to generate interest in our solutions to address the protection gaps that exists," Higginbotham added.
For more on SIRC 2020, see here.