Swiss Re seeks to double its book in Asia: Higginbotham
November 8 2019 by Andrew Tjaardstra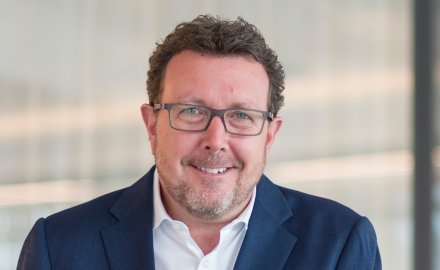 Swiss Re has ambitious growth plans in the region and is not being deterred by recent sizeable storm events.
Russell Higginbotham, chief executive Asia at Swiss Re, told InsuranceAsia News at SIRC 2019: "Swiss Re wants to double its business in the region in the next five years and we see growth in all markets. China and India are particular target countries in the region as GDP rises."
He added: "We see opportunities in developing agriculture, engineering and liability lines; this is a diverse and dynamic region with plenty of opportunity."
Higginbotham (pictured) has been visiting all the reinsurer's offices in the region after succeeding Jayne Plunkett (who started at AIA at the beginning of November) in the summer; his prior role was chief executive EMEA at Swiss Re and he has previously been based in Japan and Australia for the firm.
Commenting on the impact of typhoons Faxai and Hagibis in Japan, Higginbotham said: "We are seeing a new reality about how we face typhoon risk in Japan. Although, there has been no real change in frequency – we have seen a similar pattern every 30 years – there has been in an increase in severity – partly as a result of the migration to coastal areas."
In addition, he added that the cost of repair companies has increased in Japan over the last few years as a result of the Rugby World Cup and Olympics.
Swiss Re estimates that Typhoon Faxai will cost the market US$7 billion.
The floods are an opportunity for the Japanese government to improve building codes and flood defences; resilience is becoming one of the key buzzwords in insurance and for good reason.
In order to help such endeavours, the reinsurer has recently opened a branch of the Swiss Re Institute in Beijing.
He added: "We believe the opening . . . will help us liaise with academic institutions to give us greater research and development capabilities in China and the region."