Institutional Asset Management Awards 2023
June 30 2023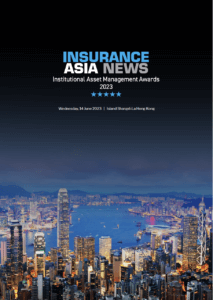 The InsuranceAsia News Institutional Asset Management Awards are now in their sixth year. We are delighted with the support we have had from the asset management community across the region. The fact that so many of Asia's top asset managers participate shows this is a valued event in the annual calendar.
Despite the business disruptions we have all faced in the last few years, InsuranceAsia News has continued to bring you high quality news and analysis. The insurance sector remains a key area for asset managers and, once again this year, we were able to attract very high quality entries. Thank you all for supporting this initiative and congratulations to all our winners.
Once again I'd like to thank the team at InsuranceAsia News who
helped to put the awards together, particularly Richard Newell who managed the awards submissions and the judging process and acts as our MC for the awards presentation. Thanks also to the rest of the back room' team for helping to deliver another successful awards function.
Thank you for your continued support of the Institutional Asset Management Awards and for joining us to celebrate your success.
Enjoy the evening.