Super typhoon Meranti provides wake-up call
September 19 2016 by Nick Ferguson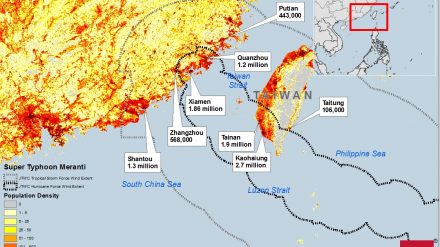 The strongest typhoon this year blew through Taiwan and China last week, providing a reminder of the wind, flood and storm surge perils facing southern Chinese cities.
Meranti skirted southern Taiwan at Category 4 intensity and made a direct hit at Category 3 on the mainland, close to the port of Xiamen. Risk modeller RMS reports there has been quite significant wind damage, but the low take-up of insurance in China suggests the storm, which was the strongest to hit Fujian province in 60 years, will produce limited insured losses, even through insurance-linked securities (ILS).
"Any ILS exposure to China Typhoon will probably be via the more global collateralised reinsurance contracts and in more diversified portfolios, but even then it's likely to be in very small proportions so losses from Meranti are not going to be of much concern for ILS investors," says Ben Brookes, vice-president of capital markets at RMS.
It is becoming increasingly common for ILS funds to include exposure to Chinese property catastrophe risks through collateralised products, as well as through structures such as reinsurance sidecars, according to Artemis.
Brookes argues that Meranti is another reminder of the huge potential for insurance-linked securities in the region.
"It would be relatively straightforward to put parametric protection in place for an event like this," he says. "Category 4 and 5 storms that have the potential to strike regions of high populations and exposures are exactly the type of event such protection can be designed for, particularly if issued by a state sponsor."
To be sure, the damage caused by Meranti in China is significant, according to Guy Carpenter's analysis of media reports, which indicate at least 10 dead and suggest that 33 million people have been displaced, with 1,600 homes reported destroyed. The storm caused damage to water infrastructure, with flooded streets, downed trees and destroyed cars. Roof damage has also been reported in affected areas. Three power transmission towers have been downed and power outages have affected well over one million. An 871 year-old bridge, a cultural landmark, has been reported destroyed in Yongchun County. Shattered windows were reported for affected tall buildings and there was severe disruption to travel.
The typhoon had less of an effect in Taiwan, which is generally well-equipped to deal with storms and has good coastal defences to mitigate against surge. Economic losses from typhoons in Taiwan tend to be limited as the storms develop in the Pacific Ocean and approach from the east, while most of the industrial exposures are in the west of the island.
Even so, reports indicate at least one fatality. Flood waters affected around 700,000 homes and disruption to power and water has affected at least 600,000 homes. In the port city of Kaohsiung, at least 10 cargo ships broke from their anchors, including a 140,000 tonne vessel that hit two cargo cranes.
Meranti ought to provide another wake-up call that China needs more effective catastrophe risk transfer.