Steadfast's Kelly persists in bullish expansion
August 21 2019 by Andrew Tjaardstra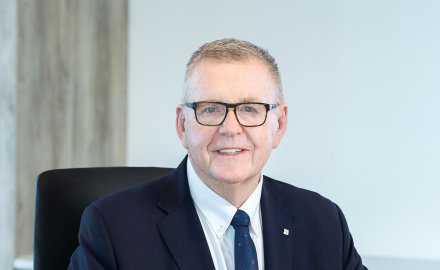 Steadfast is one of the most important names in Australian broking and its senior management are determined to make its influence felt further.
84% of its brokers' clients are SMEs which ensures it is in a strong position given SMEs make-up over two million businesses in Australia; lines of business, which have seen hardening rates this year, include commercial motor and property, commercial combined, professional risks and liability.
For the financial year ending June 30 2019, the firm reported underlying net profit after tax climbed to A$89 million (US$60.4 million) with underlying revenue up 21% to A$688 million.
The Steadfast network, built up tirelessly by co-founder, managing director and chief executive Robert Kelly, increased its gross written premium under its control from A$5.3 billion to A$6.1 billion (US$4.4 billion); importantly it has equity stakes in 65 out of 398 brokers. The network is set to grow following the acquisition of the IBNA network for an initial A$76 million; 78 of IBNA's brokers which a combined annual gross written premium of around A$1.4 billion (US$978 million); under the arrangement IBNA members will move across individually with the majority expected to part of Steadfast's network by the end of September.
Steadfast also has equity holdings in 26 underwriting agencies which controlled A$1.2 billion in the 2018/19 financial year.
The distribution model works by having local brokers sticking close to clients and then potentially taking further commission again if the brokers use its specialist underwriting agencies – such as Argis for farmers.
Kelly (pictured) said the results were "driven by organic and acquisition growth of our equity brokerages and underwriting agencies."
He added: "Management remain focused on delivering further value for shareholders by continuing to convert acquisitions that meet our strict criteria, growing GWP volumes through our proprietary…insurance technology platform, and continuing to provide our network of brokers market leading general insurance solutions to deliver positive client outcomes."
Indeed, Steadfast halted trading today (August 21) on the Australian Stock Exchange to announce a A$100 million (US$67.8 million) capital raising through new shares of which A$89 million would be made available for committed expenditure, to fund future acquisitions and "general corporate purposes"; it noted its "pipeline of acquisitions remains strong".
Kelly confirmed to InsuranceAsia News that this is fresh money for deals and not connected with the IBNA transaction.
Steadfast also owns a premium finance company, 50% stakes in a life and reinsurance broker and 25% in a legal practice Meridian Lawyers.
The broking behemoth is also looking to try and stretch its reach globally with Asia as a key target.
Steadfast notes in its results: "We are also growing our international presence to create geographically diverse revenue streams. We are doing so with a low-risk, 'capital-light' strategy where we either build revenue streams to self-fund expansion or acquire an equity stake in an existing global network (unisonSteadfast)."
The group already has 47 broker offices under the network in Asia including the likes of Honan Asia, Pana Harrison and Sterling Knight in Singapore (according to its website). Allan Reynolds executive general manager direct, New Zealand and Asia oversees the Asia broking relationships.
Kelly has said he intends to stay at helm of Steadfast until at least the end of 2022; expect plenty more growth, acquisitions and tireless work between now and then as he helps reshape the Australian distribution landscape.