South China flood losses reach almost US$3bn
June 17 2020 by Yvonne Lau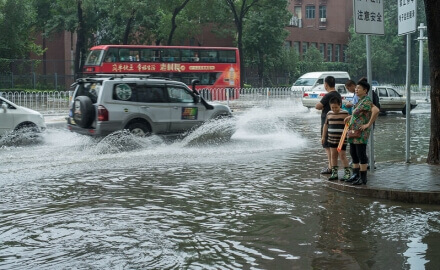 As Beijing contends with a new Covid-19 outbreak, China's southern regions have been inundated with severe floods that have caused direct economic losses of Rmb20.7 billion (US$2.9 billion), says the country's Ministry of Emergency Management (MEM).
8.5 million people in 24 provinces have been affected by heavy rainfall that led to intense floods, beginning on June 15. The MEM's latest figures show 63 people killed and 500,000 evacuated.
It is understood that at least 1,300 homes have been destroyed, but unclear to what extent the damaged properties are insured.
Lytton Li, managing director, China at loss adjuster McLarens told InsuranceAsia News (IAN): "[There was] a short period of heavy rainfall and river silting. The flood levels exceeded most municipal drainages — leading to widespread flooding and serious damage in [the affected areas]."
Li continued: "The flood levels exceeded the estimates of insurers and their customers. Several major claims were over US$10 million. McLarens set up a team of 30 adjusters to handle claims in this area." The team had handled a few "major claims," said Li, but further information could not be disclosed due to confidentiality arrangements.
Chen Tao, China's National Meterological Center's (NMC) chief forecaster, noted that the heaviest rainfall will occur on June 16 and 17, and is expected to last throughout the week. The precipitation could reach up to 40 cm.
The NMC added: "Heavy rain will [continue to fall] with strong intensity. [We have] updated the warning from a blue to yellow rainstorm warning. The public should guard against mount torrents, landslides and urban waterlogging incurred by persistent heavy rainfall." 
Severe downpours, storms and rain-triggered floods are expected to sweep the provinces of Shaanxi, Sichuan, Henan, Gansu, Chongqing, Guizhou, Henan, Hubei, Anhui and Jiangsu this week.
Next week from June 21 to 24, heavy rainfall is expected again, in the areas south of the Yangtze River and various parts of southern China.
The country will be dealing with a difficult flood season this year, with rainfall expected to be above average, says the Ministry of Water Resources. China's rainfall for this year has been recorded at 6% higher than usual, during the same period in recent years.
148 rivers in China have now seen floods that meant waters rising above warning levels.
The floods arrive at a time when capital city Beijing is dealing with a new virus cluster outbreak, stemming from the Xinfadi wholesale food market. China's National Health Commission (NHC) reported 36 new infections on June 15 — meaning a total of 79 cases of locally-transmitted infections since June 12.