SIRC: Data, digital and fewer barriers to boost supply chains
November 5 2020 by Andrew Tjaardstra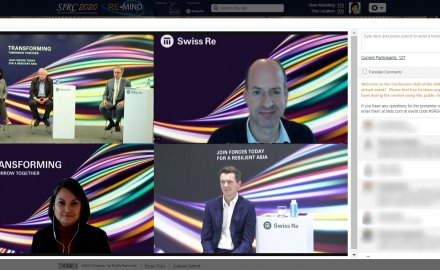 A high level panel discussion at this year's SIRC discussed the evolution of supply chain management.
Jerome Jean Haegeli, group chief economist at Swiss Re, reflected on this year's recession.
Haegeli said: "Supply chains are only as strong as the weakest link. Covid-19 has caused the deepest recession in our lifetimes, but Asia is steaming ahead. The economic environment was weak before the crisis and has become a lot weaker."
On the plus side Swiss Re Institute expects to see 2.7% GDP growth in China with 7% next year, and in another positive for the overall market, Haegeli said: "We expect [to see] an extra US$1 trillion to be generated from investment in supply chain infrastructure and exports meaning an extra US$65 billion of GWP over the next five years."
One area where supply chains could be improved is in the collection and digitalisation of data.
David Piesse, board member at Guardtime and chief executive of DP88, said: "We need the digitalisation of the supply chain and have trust and understanding of the data right the way through so we understand about the liability and where it occurred and also to provide parametric insurance."
Piesse continued: "We need to develop ecosystems –and have people on the inside looking out. Sensitive data doesn't need to be moved – you can keep your data and give others permission to use. Data integrity and cyber integrity are very important in building trust."
Adding to this theme, Shehrina Kamal, product director – risk monitoring at DHL Resilience 360, commented that "most companies have good visibility up to tier one [of the supply chain] but most disruptions occur at sub-tiers and having data to manage this is very important."
Meanwhile, there is still too much friction across borders in the region.
Donald Kunak, chairman of the EU Asean Business Council and chairman of Eastspring Investments, commented: "Asean and China are big opportunities. Asean as a region should be more than the sum of its parts. Tariffs have come down but there are far more non-tariff measures put in place since 2015. There have been thousands of measures."
He urged: "[Governments of Asean nations] need to work on reducing cross-border frictions to really help supply chains. They are making progress but it is very gradual and they need to pick up the pace."
Governments are also set to play an increasingly important role in supply chain risk management.
Vincent Eck, head of public solutions at Swiss Re, said the ability to absorb and manage shocks from governments is especially important in the context of climate change. Eck said: "We help them understand and map out emerging risks, mitigation and emergency plans. I expect these activities to become more intense [going forward]."