SIRC 2018: Reinsurance reloaded
November 1 2018 by InsuranceAsia News Staff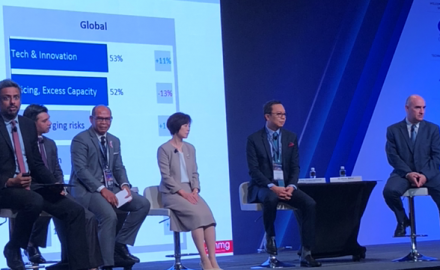 Senior market players discussed pricing, technology and underinsurance at the Singapore International Reinsurance Conference 2018 on Wednesday in a panel chaired by Roshan Perera, partner, actuarial consulting, NMG Consulting.
When asked about the amount of capital and its effect on pricing in the industry, Bobby Heerasing, group chief executive, ACR Capital Holdings, said: "According to JLT Re in 2017-18 around US$80 billion [around 20% of the total] of reinsurance is from third parties such as hedge funds; 10 years ago the split was 95% to 5%."
He commented: "This is a massive shift — there is an oversupply of capital driven on historical returns. It has created an imbalance between supply and demand."
Asked if this will change, Heerasing said: "The optimist says yes as interest rates rise and QE reduces and inflation rises. However the capital is here to stay for at least the next three years. However there have been US$21 billion of losses so far this year in Asia –the pricing needs to reflect this."
Commenting on how to close the protection gap through collaboration, Sachiko Hori, general manager, head of planning team and head of global PPP unit, reinsurance department, Mitsui Sumitomo, said: "There is a huge protection gap and this gives our industry big potential in the future. We can work with the World Bank, the United Nations, local municipalities and governments.
She added: "We have launched Vision 2021 to create a resilient and sustainable society by co-operating with business partners. We are working with the likes of the University of Tokyo to assess the impact of climate change on flooding."
Zainudin Ishak, president and chief executive, Malaysian Re, said: "The delivery on margin needs to be there. We need to invest in technology and people and be disciplined on underwriting but also equitable — find the balance."
"There is a large opportunity for public-private-partnerships. 80% of economic losses in Asean aren't insured. We need to become efficient and affordable, and awareness is important."
Olivier Mahul, global lead and program manager for disaster risk financing and insurance program, World Bank, said: "We are doing price modelling in Cambodia, Laos and Myanmar. We need to develop flood and cat models with governments which can then be used by the private sector."
"Technology is critical for people on low incomes who live in the countryside in particular. How can you reach out to people who don't have a bank account."
Commenting on how technology can help Mahul said: "Social media can capture far more events and can better inform governments as to where the problems are. We are working with a start-up in the Netherlands using satellite imagery with social media reporting to see how many people are being affected by disasters."
Oran Vongsuraphicet, chief executive of Thai Re, said: "It is costly for smaller insurers to invest in technology. Reinsurers can act to help them. For example, in Thailand we did a joint venture with a start-up to do peer-to-peer insurance on motor. We also do third party administration claims."