SIRC 2018: Insurtech and innovation
October 31 2018 by InsuranceAsia News Staff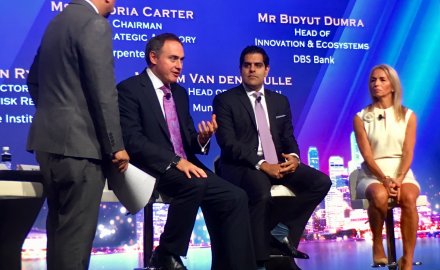 Disruption from insurtech and connectivity was the subject of a panel discussion chaired by the BBC's Rico Hizon on October 30 at the 15th Singapore International Reinsurance Conference.
When asked about the benefits of technology, Steve Arora, chief executive of Axis Re, said: "The new paradigm will help us pay claims and interact with customers more easily, for example faster underwriting, while data should help us produce a better price. However, we are careful to ask how does innovation support our business strategy?"
Victoria Carter, vice-chairman, global strategic advisory, Guy Carpenter, said: "We need to focus on what our clients need. There are 50 new start-ups a month and things are becoming complex. We have established a company which has a database of 2000 insurtech companies. We can find out where our clients' pain points are and the taxonomy from our database allows us to find out the best insurtechs."
Commenting on how a bank had turned way from its traditional model, Bidyut Dumra, head of innovation and ecosystems, DBS Bank, said: "The key is adaptability, awareness and leadership. You need to understand the implications [of technology] and transfer it into value."
"The democratisation of technology means the barriers to entry are very low now — it is cheap and easily available with a dedicated talent pool. It is going to be a source of dreams or nightmares. We see insurance as an opportunity – for example we have helped facilitate instant payouts."
Meanwhile Tom van den Brulle, global head of innovation, Munich Re, asked: "Who will take the customer in the future? Alibaba, the banks, Facebook?  Let's not be too indulgent – the world has become bigger. We need to be a technology company, not just a capital provider. It is about creating things."
He explained how Munich Re is partnering with insurtechs and other technology providers to become part of the customer journey and life-cycle; he added companies like Airbnb are creating different risks that need to be addressed.
Arora warned the audience that technology is not the only answer. He said: "I'm concerned we aren't investing enough in the human element. We will need a new differentiator beyond technology, such as social skills and empathy. It will never go away. Let's not under-invest."
Dan Ryan, managing director and head of insurance risk research at the Swiss Re Institute, noted: "We are all irrational human beings making very important decisions. Insurers should work in conjunction with you to reduce that risk. I am a worried optimist. Data helps us makes things more specific and to develop a more direct, relevant relationship."