Singapore's foreign players benefit from tax handout
February 21 2020 by Nick Ferguson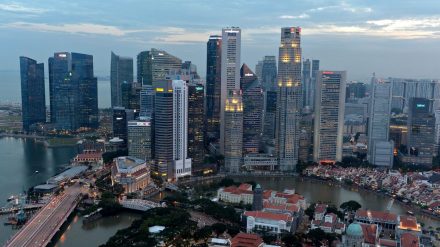 Singapore will continue handing out generous tax breaks to foreign insurers and reinsurers for another five years as part of its long-standing effort to establish the city as the region's dominant centre for (re)insurance.
In its latest budget, the government extended the scheme to December 31 2025, meaning that income and commissions from underwriting, investment and insurance broking for qualifying business lines will continue to be taxed at a maximum of just 10%, providing a significant incentive for global insurers and captives to base their regional operations in the city.
Singapore introduced the insurance business development incentive scheme in 2015 and has since brought all of its insurance incentives under this single umbrella scheme, including several older arrangements that explicitly targeted offshore business. The incentive for marine hull and liability will lapse at the end of March and come under the umbrella scheme.
Brendan Egan, insurance tax leader, PwC Singapore commented: "The extension of the captive incentive and the maintenance of the current tax rate of 10% was expected. Bringing the marine hull liability incentive under the general IBD incentive is also in line with the government's intention over the past couple of years to consolidate the application and administration of the incentive for the insurance industry."
Although it is no longer an explicitly "offshore" incentive, the scheme excludes most of the business conducted onshore by insurers and reinsurers, including all direct life insurance. On the general side, fire, motor, work injury compensation, personal accident and health are all outside the scope of the scheme. These lines together accounted for 73% of the total onshore gross premiums written in 2018.
"There is also more that the government could have done."  Brendan Egan, PwC

However, three-quarters of general premiums written in Singapore originate offshore, with property by far the biggest line, accounting for more than 50% of premiums for both direct insurers and reinsurers. Motor accounts for just 13% of offshore business, while the other excluded lines are all much smaller than that.
Offshore general premiums included under the scheme totalled at least S$7.6 billion (US$5.5 billion) during the first three quarters of 2019, while onshore general business included in the scheme came to S$1.7 billion (US$1.21 billion). That represents at least 70% of all general business in the city. (This amount excludes "other" offshore business lines as work injury compensation, personal accident and health are not broken out separately under the government's official statistics for offshore business.) Life reinsurance is also eligible under the scheme.
Even so, some within the market would like to see the scope expanded further. From a practical point of view, it can be difficult for companies to track, identify and apportion all forms of general insurance income to the excluded lines of business, so broadening the incentive to all general lines would be a welcome simplification, according to PwC. And, given that the excluded general lines are roughly only around a quarter of the market, it would not be a major concession.
Egan said: "There is also more that the government could have done. The excluded lines of business such as motor vehicle, fire, work injury compensation, personal accident and health have created administrative challenges for insurers to identify direct expenses and allocate indirect expenses across their lines of business. Simplification of the allocation basis would be a welcome change to the incentive offering."
Competition
The move comes just a few months after officials in the city said they were scrapping a 20-year-old scheme that allowed Lloyd's syndicates to write primary business from London, citing the growing maturity of the island's insurance sector. But (re)insurers will be pleased to know that they are not yet considered mature enough to pay a standard tax rate.
That decision may have been helped by the threat from Hong Kong, which is keen to win back its position as Asia's leading insurance hub after a report by the Financial Services Development Council noted that the city is "facing a serious challenge and is lagging behind its Asian competitors [ie, Singapore] in many areas".
The region's reinsurance industry largely moved from Hong Kong to Singapore after the Asian financial crisis more than two decades ago, but the Lion City's more recent tax incentives were cited in the report as being particularly effective in attracting marine hull and liability business away from Hong Kong.
This prompted the Special Administrative Region to respond last year with a proposed 8.25% profits tax rate for general reinsurance business of direct insurers, certain classes of general insurance business and insurance brokerage business — to match the existing rate for captive insurance and reinsurance business. It is due to come into effect in April.
Hong Kong's consistent budget surpluses give it plenty of room to be even more aggressive on taxes if it chooses, but it also needs to focus on developing the appropriate skills needed to support the industry, as well as a regulatory approach that can respond to the modern challenges the industry faces.
Either way, (re)insurers are sure to benefit as the two cities bend over backwards to be the most accommodating to market players.