Singapore brings Lloyd's onshore
December 6 2019 by Nick Ferguson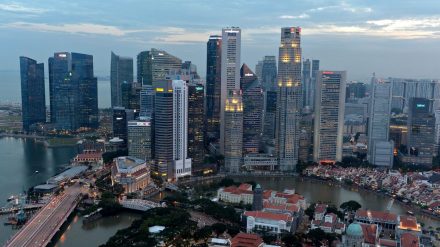 Some of Lloyd's biggest syndicates are being shut out of Singapore after the city's financial regulator scrapped a 20-year-old scheme that allowed them to write primary business from London.
The repeal will take place over a three year period.
The decision means that Hiscox, Liberty, Axis and many others will no longer be able to accept Singapore primary business under the so-called Lloyd's Scheme, which authorised six approved brokers to offer such risks in London. The move will even affect syndicates with an onshore presence to a certain extent, as many write some Singapore policies through London.
"Thirty years ago, if you wanted to be an international specialist insurer you could operate almost exclusively from London." Christian Stobbs, Markel

Lloyd's has stressed that the scheme was always intended to be temporary and that its closure is not a surprise. Back in 2000 when it was first set up, Singapore lacked the capacity and onshore expertise to underwrite this kind of business, so it made sense to allow brokers to take certain risks to London.
Today, with 18 Lloyd's syndicates on the ground and a maturing insurance market, the Monetary Authority of Singapore seems to be taking the view that the scheme is no longer needed.
"Thirty years ago, if you wanted to be an international specialist insurer you could operate almost exclusively from London," says Christian Stobbs, Asia managing director for Markel. "As we enter 2020, that is no longer the case."
For its part, Lloyd's says that the phasing out of the scheme is a strong recognition of the maturity of its platform in Singapore and the depth and breadth of capacity and expertise it has built during the past 20 years.
Transition
For syndicates such as Markel, which has an onshore presence in Singapore and global P&Ls, migrating affected policies from London to Singapore will be seamless, Stobbs says.
It is not entirely clear how much business will be affected by the closing of the scheme. In 2018, Lloyd's syndicates wrote S$73 million of primary onshore business in Singapore and it is expected that this will increase as London business conducted under the Lloyd's Scheme is transferred.
That should give a boost to the Lloyd's Singapore platform (which operates under the similarly named but completely separate Lloyd's Asia Scheme) after it has suffered some high-profile exits during the past 18 months. Despite those setbacks, Stobbs says that overall premiums are up in 2019 and Lloyd's Asia chief Angela Kelly has said that the Singapore platform's combined ratio will be back under 100% for the year — down from 108.3% in 2018.
The winding up of the Lloyd's Scheme does not affect reinsurance. "Brokers can continue to place reinsurance with Lloyd's in London or anywhere in the global network in the same way they currently do today either on a cross-border basis, without a Singapore broker involved or when MAS dispensation has been granted for specific cases," says a Lloyd's spokesperson.
Going local
The move reinforces an existing trend of growing local placements. Indeed, Lloyd's onshore primary business has been the fastest-growing part of the platform over the past five years. Premiums are up almost 50% since 2013, compared to 32% for offshore primary business and 16% for reinsurance.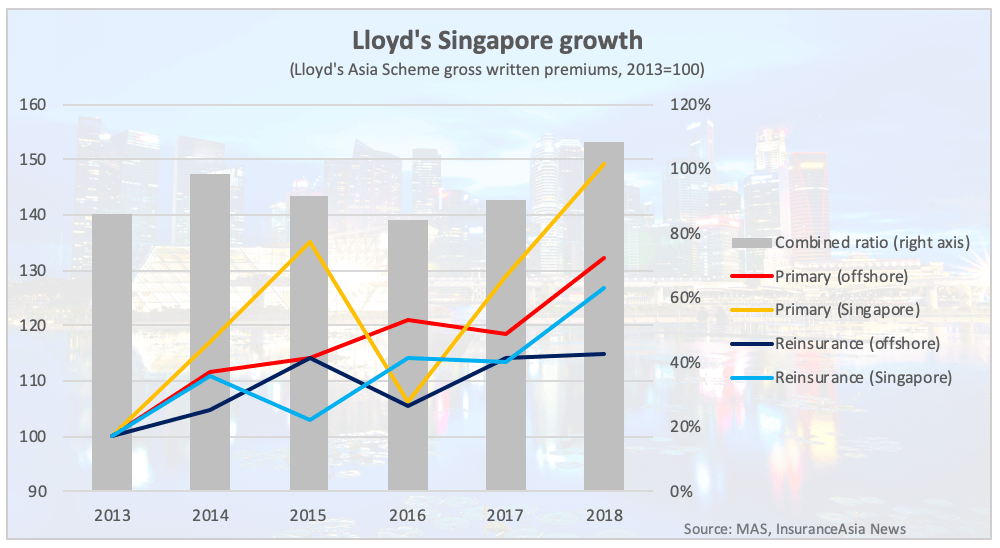 "Our experience is that clients increasingly want to work with insurers locally," says Stobbs, who cites the importance of being in the same time zone and therefore being able to respond quicker. "There's still plenty that goes to London and will continue to do so, but if you look at the placement trends there is an increased amount being retained locally, which is entirely to be expected given the growth of the capacity and the growth of the underwriting capability locally."
The 18 syndicates in Singapore are seeing the closure of the scheme not only as an endorsement of the developing maturity of the local market, but also as an opportunity to further grow their local books.
"Obviously risk appetites won't always be the same across different syndicates, but there may be a number of London-only syndicates that are not able to continue to service this business come 2022," says Stobbs. "Along with our peers on the Singapore platform, we'll be putting our hands up to say we're there to help brokers and the policyholders that want the continuity of Lloyd's security locally."
Why the scheme is being phased out now, specifically, is unclear. The Monetary Authority of Singapore may have seen the decision as a natural next-step in its long-term plans to develop the city into Asia's leading insurance hub. Retaining more specialist business locally will clearly help to bolster the further development of onshore expertise, and this is a motivation that has been seen in other markets across the region, from China and India to Indonesia, where requirements for ceding reinsurance locally have been growing.
But the decision may also give syndicates greater incentive to stay in the city, as quitting will now mean giving up the ability to write onshore Singapore business. This year has seen several syndicates give up their seats in Singapore, including ArgoGlobal and CNA Hardy.
Going forward, that may be a tougher decision for those that are considering their future in Singapore.