Rivals question Aon pay cut
May 5 2020 by Nick Ferguson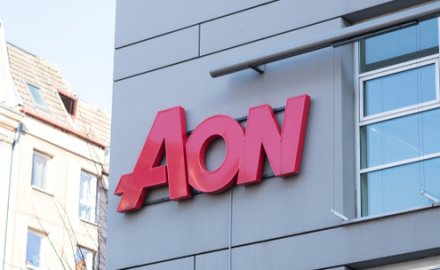 Aon's decision last week to cut salaries for most of its workforce is drawing criticism from competitors and staff.
Dan Glaser, president and chief executive of Marsh & McClennan, speaking during an earnings call on April 30, described Aon's measures as "survival-mode stuff" and drew parallels with the global financial crisis when there was a slowdown in the collection cycle that created some liquidity problems for brokers.
"Solving that issue by reducing pay is an awfully blunt instrument," he said. "It can have lasting implications, starting with the notion of battering trust with your colleague base by challenging them when they're in this difficult period."
Instead, said Glaser, Marsh had prepared for the slowdown in collections by securing additional assets and liquidity early in the crisis.
Preparing for the worst
One explanation for Aon's move is that it is anticipating a worst-case scenario that is considerably more severe than the broking industry experienced during the financial crisis.
Speaking on Aon's earnings call on May 1, chief executive Greg Case said that hoping for a quick return to normal is the "easier path to take," but not necessarily the right one.
"We desperately hope that's the outcome, but if it's not, we want to be in an absolutely unique and pristine place to help our clients succeed," he said.
But even Aon's merger partner, Willis Towers Watson (WTW), has rejected the need for such extreme measures. The two companies continue to be managed as independent competitors and Willis chief executive John Haley has said that he is focusing on cutting discretionary spending and protecting cash flow.
"The way we approach this is to say our first and foremost priority is the safety and well-being of our colleagues," he said during the WTW earnings call. "The second priority is then making sure we manage the financial health of our business, and that includes making sure we take care of our colleagues from a benefit and compensation standpoint, too."
"Our colleagues have embraced it and understood exactly what we're trying to do." Greg Case, Aon
Aon is clearly taking a different approach. Asking 70% of employees to take a 20% pay cut ensures the company can avoid layoffs for its 50,000-strong workforce, according to Case.
"Our colleagues have embraced it and understood exactly what we're trying to do," he said. "Our top priority is to proactively support colleagues."
Some of Case's employees are wondering about that, especially as their boss reiterated that the company is in "an exceptionally strong position" and enjoys a "very stable revenue base in highly recurring businesses with retention rates of 95% on average."
Senior executives are reportedly sharing the pain, with 50% cuts to basic salary for Case and others, who have also given up their cash bonuses for 2019. However, stock awards comprise by far the majority of the senior executives' compensation (US$13.7 million for Case in 2019) and these are unaffected.
Overall, Aon's compensation and benefit expenses in the first quarter were roughly US$1.5 billion, which gives a potential ballpark saving (depending on the undisclosed per-country salary thresholds) of around US$200 million each quarter from the salary cut.
The salary cut applies from May's pay and will be reviewed every month.
It remains to be seen how such strikingly different management approaches will be resolved after the merger [of Aon and WTW].
Meanwhile, the company has announced that it will pay shareholders a quarterly dividend of more than US$100 million (including more than US$380,000 to Case, who owns roughly 881,000 shares according to SEC filings) and is committed to maintaining the dividend through the crisis.
And this comes after the company gave out US$565 million through buybacks and dividend payments during the first quarter, and close to US$2.5 billion last year, while it retained US$690 million in cash and equivalents on its balance sheet.
The company has said that it has now suspended discretionary uses of cash for share buybacks, though that decision may be unrelated to Covid-19. Willis Towers Watson said last week that it was prohibited from making buybacks under the terms of the two companies' merger agreement, and this presumably applies equally to Aon.
Merger
It remains to be seen how such strikingly different management approaches will be resolved after the merger, though both chief executives reiterated their enthusiasm for the deal last week despite the challenges of trying to push through a merger when almost everyone involved is working from home.
"When you see what's happening with Covid-19, it actually strengthens the case for a firm with that kind of broad, innovative capability," said Haley, who added that the company is already seeing the effects of the crisis in its first-quarter numbers, particularly in corporate risk and broking.
"We certainly know it's affected us in Asia," he said, "because February and March was when they were hit by a lot of their lockdowns."
Even so, both companies reported improved revenues for the quarter — WTW was up 7% and Aon was up 2%.
The two chief executives might still be keen on the merger, but employees at WTW, and also Aon, could be forgiven for some hesitation about the deal.