Reinsurance market robust, needs change: SIRC 2019 panel
October 30 2019 by InsuranceAsia News Staff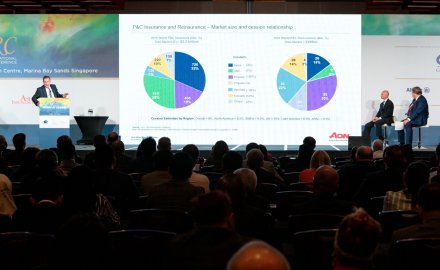 Dominic Christian, global chairman of Aon Reinsurance, and Tobias Poensgen, chief executive of Momentum Capital, a European family office, discussed the reinsurance business model and the risks it is facing in the opening dialogue of SIRC 2019 on October 29.
The consensus was on the changing nature of risk – the increased complexity and volatility faced by market players today. Changes are  coming from all directions – new, competitive, disruption risks, as well as geopolitical, cyber, financial market and regulatory ones.
As an investor, Poensgen highlighted the risk, turbulence and outdated views in reinsurance – the market belief that they have a great business model that will outlast change. Poensgen noted that a large wave of change is coming, particularly with the potential of insurtech and new technology for risk assessments. The industry must innovate and stay ahead of the curve to stay relevant, he said.
Veteran Christian commented that the market remains robust on the ground and is confident of its capacity for transformative change. He added that legacy players, such as Aon, have decades of data and expertise to utilise.
On the future of the market, Christian said: "We estimate that we will see a powerful increase from US$180 billion of non-life global premiums today to US$300 billion in ten years." For the upcoming January renewals, the "local impact of catastrophes and macro-economic impact on a global scale" will drive the market.