Redefining healthcare roundtable
October 8 2018 by Nick Ferguson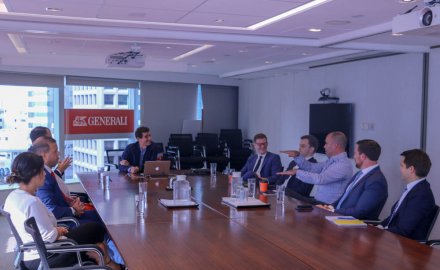 If you sit a group of private medical insurance brokers around a table, it won't be long before the discussion turns to medical inflation. So it came as no surprise that this was the dominant topic when Generali Global Health and Insurance Asia News invited a group of brokers for a roundtable in Hong Kong to talk about the international private medical insurance (IPMI) industry.
However, some significant areas of common ground between brokers, insurers and members also emerged, which could allow the industry to help contain costs and create sustainability, while also improving the experience for end users. Achieving such a win-win might not be easy, but all agreed that further discussion, education, technology and even regulation will have a role to play in providing a service that is affordable and delivers better health outcomes.
To get there, it is important to first understand why premiums are rising by 10% or more every year —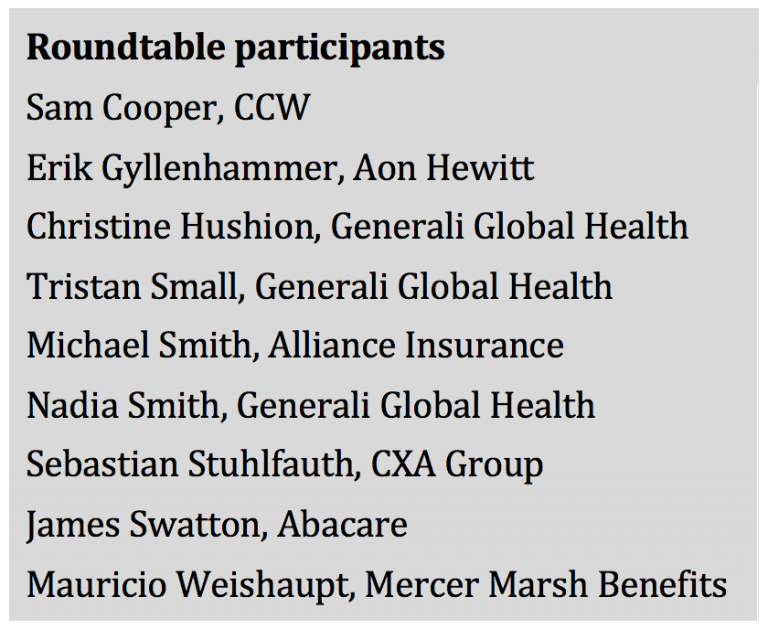 because this is not immediately obvious, even to professionals involved in the industry.
"The cost of an operation this time last year was pretty similar to what it is now, so I'm not really sure where the medical inflation is," said Sam Cooper of CCW. "A doctor's visit in Hong Kong costs the same as it did a year ago."
Perhaps, said Cooper, some of the rise in premiums may be explained by more expensive drugs, targeted forms of treatments or robotics and other experimental technologies, which drive up cost at the higher end of the market — and that may be justified, according to CXA's Sebastian Stuhlfauth.
"New technologies such as DNA testing or genomic testing for cancer treatments can lead to better outcomes but are more expensive than the standard options," he said. "You have to find a balance between the coverage provided and the associated premium cost. Certain benefits can't be covered at a certain cost level. If you want to provide the best member experience and coverage possible, premiums will have to reflect that and are therefore going to be higher. As a provider you have to decide what your approach is and we as brokers need to help our clients navigate that."
Over-utilisation
It is not just about Rolls-Royce healthcare though. Another element driving up premiums in Asia, argued Erik Gyllenhammer of Aon Hewitt, centres around over-utilisation rather than pure cost inflation.
"One of the key drivers is the ageing population," he said. "People are obviously living longer and that leads to more chronic lifestyle diseases and treatments, so it might be that the same treatment costs roughly the same as last year, but you have more people going for tests and higher levels of treatment."
Regardless of whether it is claims or treatments, or a bit of both, prices that increase at many times the underlying rate of inflation are clearly not sustainable.
"We hear constant feedback about premiums being very high and very expensive now," said Michael Smith of Alliance Insurance Services. "When you start to see medical inflation averaging 10% or 15% year on year, the reality is that's expensive to a lot of customers. People's wages don't go up 10% or 15% every year and this is something that insurers need to get a handle on to remain competitive and relevant."
Such complaints are not only about higher prices. None of us wants to pay more for any of the things we buy, but if the product or service is demonstrably improving then we can at least understand and appreciate what we are paying for. Too often, though, the service that is delivered in the healthcare market is not transparent.
"We hear a lot about big data, but having access to the right data is sometimes a bit of a challenge," said Gyllenhammer. "That's one of the most basic starting points. Who is gauging the clinical outcome and the member experience? Is this person actually getting healthier? Are we just paying more and more to avail new treatments or are they having an impact that is driving the right result?"
A peculiarity of the Hong Kong market that also adds to upward pressure on costs is the way that doctors charge.
"Certain doctors in Hong Kong are just very expensive in relation to other places," said Mauricio Weishaupt of Mercer Marsh Benefits. "There is no regulation in regards to how much they can charge for certain treatments and it is all based on the prices the doctor says they want to charge for a service."
Behaviour
There is also a behavioural element at play, agreed many of the participants, whereby medical insurance is broadly seen in a transactional way in Asia. People are more willing to go to see a health professional even for minor ailments such as a cold and expect to be given drugs. At the same time, they are less likely to question their doctor or seek a second opinion. A regulatory framework around pricing is absent, so all of this creates an environment that allows doctors to charge high prices.
Frustratingly for insurers and brokers alike, none of this improves the experience or the health outcomes of their members — but restricting a member's ability to go to the doctor of their choice will almost certainly be perceived negatively, especially when they are paying 10% more than last year.
And whilst large corporations can be flexible in the way they manage their healthcare programmes and have greater ability to negotiate prices, the reality is that Hong Kong's IPMI market is dominated by small and mid-size enterprises (SMEs) that have fewer options when it comes to managing their programmes.
So what does the insurer at the table have to say about medical inflation? "There are many factors to consider," said Tristan Small of Generali Global Health. "There's the way in which doctors charge, there is member behaviour and also the way in which insurers reimburse and design products. A joint effort is needed to create long term sustainability, from the insurers, members, brokers and regulatory bodies."
This is where some common ground can be found. Gyllenhammer conceded that brokers haven't always done a great job of introducing their clients to the insurer and encouraging an exchange of ideas and stewardship on a regular basis, but recognised that this kind of dialogue could have a positive effect on both premiums and health outcomes.
Education around the effect of using certain providers can help to understand how behaviour drives premiums, said Generali Global Health's Christine Hushion, but the consensus among the brokers was that there is a limit to how much effect this can have with SME or individual members.
As Stuhlfauth put it: "SMEs will say, 'I'm paying for this very nice programme, I'm not going to tell my people not to see a doctor.'"
Additional services
However, there are services that can achieve a genuine win-win outcome, such as second medical opinions.
"We can only promote this type of service so much, so we need to have a joint approach," said Nadia Smith of Generali Global Health. "When it comes to second medical opinions, we think there's a real value to the corporate client and equally in terms of the benefits to the individual. I've seen cases where it really has been life-changing for people."
Indeed, one participant shared the story of a member who was recommended to have her ovaries removed, but after seeking a second opinion was told that it wasn't necessary, had another form of treatment and went on to have two children. That seems like it should be an easy service to sell to members, but in practice it is rarely used.
Instead, there is a tendency in Asia to rush into things without taking time to step back and discuss alternative options. While everyone around the table agreed that second opinions were a way to deliver a better member experience (and also contain costs), the discussion moved to ways of encouraging better usage of it.
"It's difficult to prove the value of it when people don't use it enough," said Nadia Smith.
Technology
Technology could help to improve the use of these types of additional services — and this is an area that Generali Global Health is pioneering with the launch of its individual choice product.
"Generali Global Health's Choice product range [Individual Choice, Global Choice and Corporate Choice] give all of our members the ability to call in to the service centre and request a second medical opinion on a certain treatment," said Small. "We can also guide them through treatment plans and there are a number of things built into the product on individual choice."
For example, if an Individual Choice member opts to go semi-private, we give a hospital cash-back benefit. "We want to reward good member behaviours which is why we have also added a no claim discount to Individual Choice," Tristan continued.
No insurer wants to lose a healthy member due to a service breakdown or by messing up a claim, so the goal of this type of approach is to retain and reward members who exhibit positive behaviours. The opportunity to improve both member experience and health outcomes are set to expand rapidly as technology develops.
"Technology such as wearables will have a significant effect on our business over time," said James Swatton of Abacare. "It's just a question of how it's adopted, who is in charge of regulation and how that has an impact on the insurer, the broker, the doctor and ultimately the end user."
The potential of such technology is particularly powerful in the IPMI sector, where members who are frequent business travellers — often to emerging markets where health services may not be as high as in Hong Kong or Singapore — could benefit from doctors and other medical professionals being able to access their remote health data and provide timely advice. This is a focus for Generali Global Health which includes 'My Digital Doctor', a telehealth app so members can book and attend an appointment with a doctor from anywhere they have a data signal.
Even so, there are still some obstacles to adoption. "You always have to see how accurate the results those devices deliver are and what's the cost of putting the technology into place," said Stuhlfauth. "Are insurers going to give their members a device linked to their operational centres? There is a massive investment that is needed for that." Currently wearable data, such as exercise tracking, is being used to help members track healthy behaviours in wellness apps like Bria.
Even so, Stuhlfauth acknowledged that the potential for early detection of a cardiovascular event, for example, could change lives and health outcomes. "That will reduce the rehabilitation cost tremendously, so this can have a massive impact."
Data privacy
There are of course privacy issues around personal health data. Some of their members worry about who has access to the data, the brokers said. Will human resources see it? Will the information affect future individual premiums? Will other insurers have access to it through some kind of insurance database? Such concerns are common and need to be addressed with members, but there was also high confidence that younger people are more comfortable sharing this kind of information, particularly if there is a value exchange.
"Millennials are more than happy to share information as long as they get a discount," said Weishaupt. "This is a really important component that I think a lot of providers don't have embedded into an overall plan or value proposition. A lot of people are willing to actually share this provided that they have the reassurance from their provider that everything will be kept secret."
If those concerns can be put to rest, there is real potential to push the boundaries in terms of the service levels that members experience. Some of the advances in medical technology, for example, are allowing providers to offer a much more bespoke level of care.
"Through partnerships we're introducing services such as genetic testing for members diagnosed with cancer, where we send a DNA test kit to your medical provider which is then analysed to identify the specific cancer mutation and a recommendation will be given on the best course of treatment based on your individual genomic profile," said Tristan. "It's about tailoring individual treatment plans in conjunction with additional services in a way that member can easily access."
Telemedicine
Accessibility is also an important driver of telemedicine, which offers much easier (and cheaper) access to medical services, from consultations to physical therapy. The near-universal penetration of smartphones in cities such as Hong Kong and Singapore makes this technology extremely practical, but incentives may be needed to encourage adoption.
"I would argue that if you are a healthy individual and you use the telemedicine option instead of going to OT&P, you should get some kind of reward for it," said Weishaupt.
Changing members' attitudes to how they consult medical professionals will take a significant culture change, the brokers agreed, but the impact going forward will be huge.
There are, however, some local idiosyncrasies in Hong Kong as regards regulations. "You are only technically allowed to see a Hong Kong doctor, even if it is via teleconference," said Stuhlfauth. "However, you save time by seeing a doctor online versus via an in-person consultation. So there is still a benefit to both the individual and the company that is paying for the time off."
Ultimately, through all of the developments discussed around the table, Tristan Small said that Generali Global Health is working hard to redefine the relationship that members have with their insurers.
"We are trying to change the mentality in the market — we want people to understand that insurers are here to help. We're saying, 'Call us, we want to help you, we want to find the treatment plan, we want to find the best course of action for you to get the best possible outcomes.'' This is founded on our collaborative product development and design, working closely with the market, brokers and clients, as well as using data insight to create modular products which offer access to the best care available, according to member's specific needs. Of equal importance is collaboration with and the incorporation of member services from leading non-insurance companies who can bring technology and expert medical services to present a holistic proposition aimed at keeping members well, rather than just paying for treatment.
Ultimately, everyone has the same goal: a healthier population.
---