Record rain wreaks havoc in northern Queensland
February 4 2019 by Andrew Tjaardstra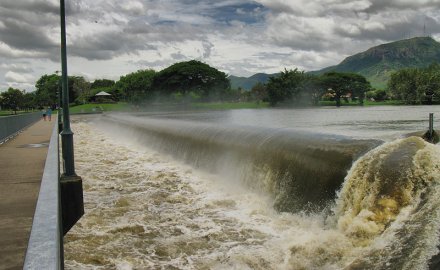 There has been severe flooding in Queensland, Australia after record amounts of rain fell in the north of the state during the past week.
In just seven days, the city of Townsville has seen 1,012mm of rain, beating the previous record of 886mm set on the city's so-called Night of Noah in 1998. More than 500 homes have been damaged by serious flooding with disaster crews and police estimating the total could reach 20,000 as heavy rain is set to continue over the next few days. Meanwhile, 10,000 homes lost power.
There are concerns about the local Ross River Dam, which is at 237% of capacity, and that letting excess water out will flood low-lying homes.
Schools were closed on Friday and will be closed in the town today too, while Townsville closed its airport. Disaster assistance has been made available for communities in Townsville, Charters Towers, Palm Island, Richmond and Burdekin.
So far there have been 1,900 claims lodged with insurers, with the losses amounting to A$16.7 million (US$12.1 million). The number of claims is expected to rise significantly over coming weeks as residents return to their damaged businesses, homes and vehicles.
Australia has seen a series of serious weather events over the past few months, with the costs of Sydney's hailstorm in December rising well above A$630 million (US$457 million), while January was Australia's hottest month on record.