Howden's Goh "exploring investments" in Asia
June 18 2020 by Yvonne Lau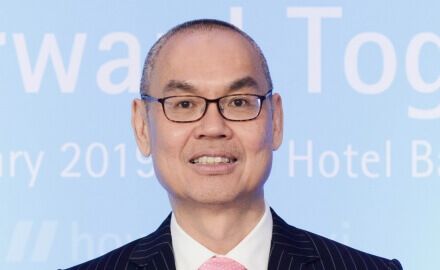 InsuranceAsia News (IAN) recently caught up with Goh Chye Huat, regional chief executive of Howden Asia, and chief executive of Howden Singapore.
2019 was a transformative year for specialist broker Howden. It acquired a strategic stake in Malaysian broker Malene; and then took control of Maxi in Thailand.
And earlier this year, Howden shared ambitious growth plans with IAN. Goh noted at the time: "We have no intention of slowing down any time soon."
Its key strategic objective was to continue building scale across Asia. Intra-Asian trade had created growing demand for brokers knowledgeable in cross-border expertise.
However, the year progressed and economies across the world were hit by the Covid-19 outbreak.
Goh shared with IAN how the pandemic has impacted Howden's Asia ambition — as well as the effect of the outbreak on Asia's P&C market and SME insurance requirements.
The chief executive also gave his thoughts on the Aon-WTW merger, in addition to the wider trend of broker consolidation, and whether or not these developments are positive for clients.
InsuranceAsia News (IAN): What impact do you think Covid-19 will have on Asia's P&C market?
Goh: It's too early to tell what the long-term impact will be. The market was hardening prior to Covid-19 so we were already seeing premiums increasing.
In the short-term, to help clients who are struggling with cash flow, we hope to see some creativity in terms of alternatives to fixed premium pricing, such as swing deals, self-insured retention or revenue-linked premium.
We need to keep one eye on helping clients survive this recession and the other on developing the solutions they are going to need as they come out of the other side of it.
Necessity breeds innovation. Wider and more effective use of technology, more robust business continuity planning, and flexible working as the new normal are just some of the changes we're already seeing.  The P&C market will need to respond with innovative solutions for future pandemics, or risk being replaced by other solutions providers such as the capital markets.
We're leveraging our own data and analytical intelligence (from Hyperion X, our in-house data, tech, and analytics consultancy arm), and working with clients and insurers, to look at what innovations in product development and delivery are going to help clients adapt to, and thrive in, a post-Covid world.
IAN: How is the environment impacting SMEs and smaller corporates? How will it impact their insurance requirements?
Goh: The long-term impacts remain to be seen. We don't yet know what shape economic recovery will take and the outcomes will vary between countries and industries.
SMEs are certainly being hit hard. Sudden and prolonged disruption to businesses without large cash reserves is, sadly, already resulting in a significant increase in SMEs facing financial default, insolvency and business closure.
"There is no excuse for the inefficient and archaic processes that characterise large parts of our industry. They not only cost more but act as a barrier to innovation."
With premiums rising and cashflow decreasing, now more than ever, we need to make moves as an industry to reduce the cost of delivery to all clients. There is no excuse for the inefficient and archaic processes that characterise large parts of our industry. They not only cost more but act as a barrier to innovation.
Following five years of significant growth, we have turned our attention to operational transformation across our businesses in Asia. We are bringing all our businesses onto one robust, end-to-end operating system, leveraging smart outsourcing and AI, digitising more of our own processes, and encouraging our partners to do the same.
At the same time, we're developing proprietary platforms to deliver more products and services to clients digitally and engaging our in-house data and technology experts to support us in helping our clients and insurers make better, more informed choices.
Our app-based solutions, such as our claims notification app in Hong Kong and employee medical insurance app in Singapore, are proving even more invaluable now with more people working remotely. We intend to build on the success of these and work in close consultation with clients to develop more digital solutions to support them in this rapidly changing world.
What is clear is that there is no going 'back to normal' after Covid-19. We all must maintain the momentum of accelerated digitisation and smarter working as it both benefits our clients and helps to elevate insurance as an environment that the brightest talent from within and outside the industry is excited to be part of.
IAN: Is the Aon-Willis Towers Watson merger and wider trend of broker consolidation a good thing for clients?
Goh: Economic theory and history generally point to the benefit of free competition as opposed to monopolies/oligopolies.
A competitive and fair marketplace, where there is sufficient diversity and choice of intermediaries, is in the best interest of clients and the creation of mega-brokers doesn't necessarily support this. However, more important than the number of brokers in the market is the quality of brokers.
Bringing together high-quality businesses to build scale and greater breadth and depth of expertise can be a great thing for clients. Consolidation in the sense of bringing together two businesses and losing the individuality of one, or both, isn't in the interests of clients, or the people working in those organisations.
When we bring businesses together, the first thing we look at, before we even begin talks with a potential partner, is whether the cultural fit is right. Can we bring these people into Howden, make them feel part of the family and help them to grow whilst enabling them to retain the individualism and unique strengths that make clients want to work with them?
If people and culture are considered from the outset and continue to be at the forefront of decisions throughout the integration, then you keep hold of talented individuals, attract new talent, and find that everyone is focused on one thing; delivering the best solutions to clients.
IAN: At the beginning of the year you spoke about ambitious growth plans for Howden Asia. Has Covid-19 changed any of that?
Goh: Our focus has always been on building a sustainable business. We expect to face challenges in some areas but our diversified business model and focus on specialisms mean we can weather shorter-term storms without taking our eyes off what is going to enable us to support clients most effectively in the long term.
We are still actively exploring investments in people and businesses that will help us build further breadth and depth of specialisms in the geographies in which we operate.
Given our growth story both in Asia and globally, we are confident that we will continue to attract experienced specialists.
Especially with consolidation that is going on elsewhere, we are hearing from talented, experienced brokers who can see the potential for career development in an agile and entrepreneurial-minded company like Howden – just like I did back in 2015.