Hong Kong's life market in flux
June 2 2020 by Nick Ferguson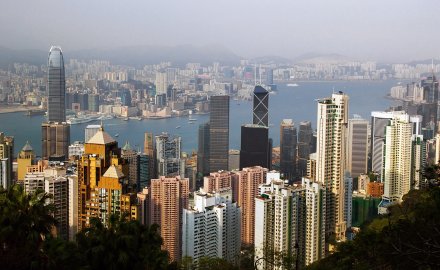 Hopes for a rebound in life insurance sales to mainland customers have dimmed as protesters have returned to the streets in Hong Kong.
The effects of civil unrest and Covid-19 were evident in the industry statistics for the first quarter of 2020 released last week by the Insurance Authority, which showed that Hong Kong life insurers booked their lowest level of quarterly sales to mainland customers since 2013.
"The big question is when travel will come back." Jennifer Law, CICC
Sales of new life insurance policies to Chinese citizens were down by 58% to HK$5.4 billion (US$700 million) compared to the first three months of 2019 after Hong Kong closed most of its border crossings with mainland China in February; other parts of the market have performed more robustly.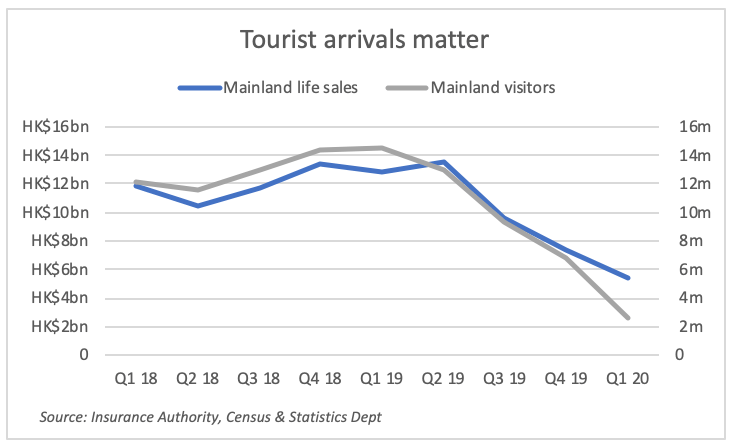 "If you look at the travel data from mainland China, the drop in sales is pretty much in line with that decline," says Jennifer Law, an insurance analyst at CICC in Hong Kong. "The big question is when travel will come back."
Sales were already down as a result of the protests, which had led to a halving of the number of tourist arrivals from China even before Covid-19 struck. The first three months of 2020 represent the third successive quarter of falling sales — premiums were down by 18% in the third quarter of 2019 and 45% in the fourth quarter.
Local Hong Kong sales have also suffered during the same period, though less dramatically. After a steep 23% decline during the third quarter last year, when the protests were at their peak, premiums have fallen by 6% in each of the subsequent quarters.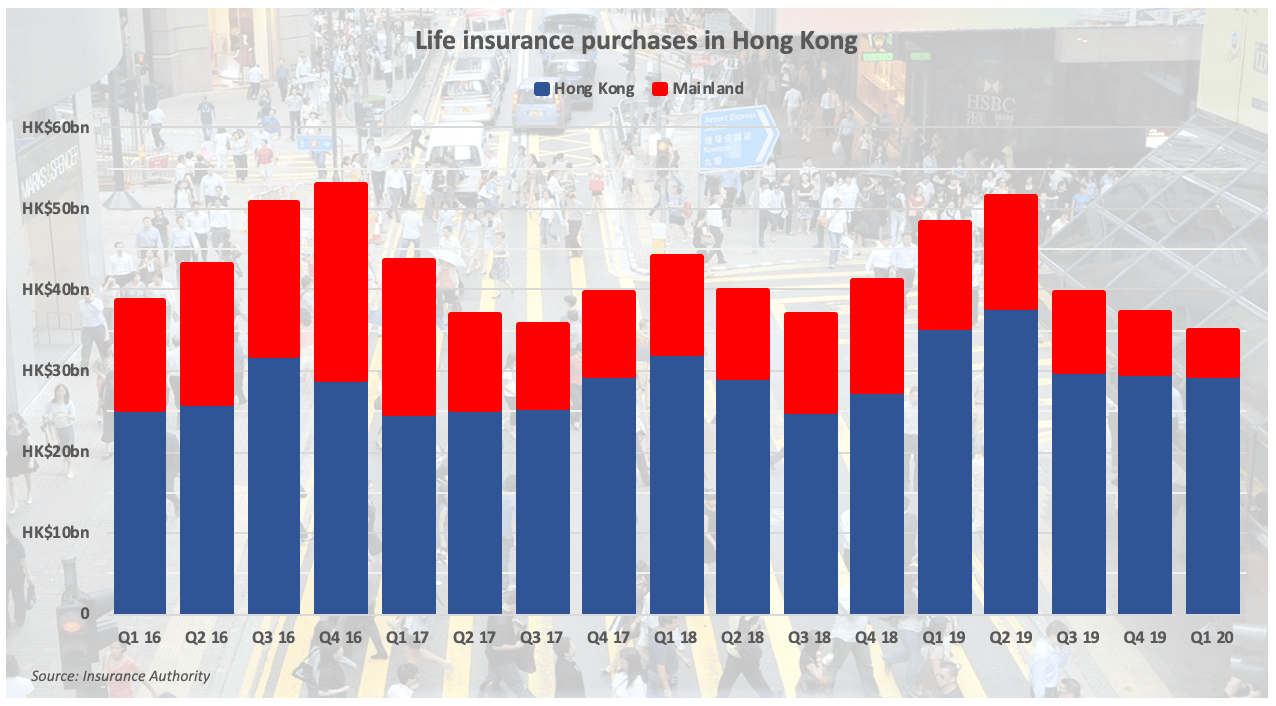 The combined effect of the decline in both mainland and local demand is a 17% drop in the total sale of new life insurance policies during the first quarter to just HK$35 billion (US$4.5 billion), the lowest level of quarterly sales since 2015.
AIA reported a 27% drop in the value of new business for the first quarter, mostly due to the Covid-19 restrictions in Hong Kong and China.
"Containment measures continue to constrain face-to-face meetings, which remain the group's primary source of new business sales," said Ng Keng Hooi, AIA's former group chief executive and president (he retired on May 31), when the company announced its results in mid-May. "Each of our agencies across the region can complete sales remotely, supporting near-term activity and enhancing productivity over the longer term. However, we anticipate that at least one face-to-face meeting will continue to be important in the new business sales process."
Indeed, sales to mainland citizens in Hong Kong cannot be completed online.
"Demand is still there and we believe the protection that mainland Chinese visitors need is still not fulfilled, so there's potential for the business to come back." Jennifer Law, CICC
Despite the effects of the unrest and Covid-19, local Hong Kong sales were still above their average for the past three years during the first quarter, so it is the return of mainland sales that is really needed to drive business back to healthy levels.
After a transition period, AIA's new chief executive, former Ping An exec Lee Yuan Siong, starts on his own this week. It's arguably good timing as the Covid-19 crisis in China and Hong Kong nears an end with a focus on how to open the border safely.
However, reopening the border has been hampered by delays in rolling out a new electronic health certificate for cross-border travellers; also political tensions are rising as China attempts to enact a new security law for Hong Kong – which could dampen sentiment.
Demand
Once those problems are solved and the border opens again, life insurance sales should return in tandem with visitor arrivals.
"Demand is still there and we believe the protection that mainland Chinese visitors need is still not fulfilled, so there's potential for the business to come back," says Law.
The original drivers of demand for life insurance in Hong Kong remain in place. For one, the pricing is attractive — AIA, for example, has the lowest expense ratio of any insurance company in the world. And the products on offer, as well as having greater variety than is available onshore in China, are typically priced in US dollars, which is particularly attractive in the current economic environment.
In the long run, companies such as AIA and Prudential can expect to see this business come back, but it's not clear when. The resumption of large and sometimes violent protests is likely to dampen some of the positive effects of reopening the border.