Progress in Myanmar
April 12 2019 by Nick Ferguson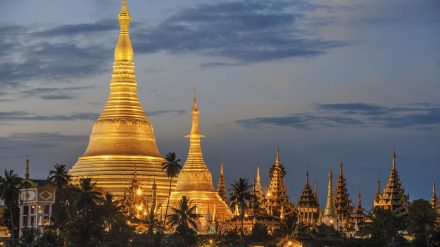 More than five years after the first foreign insurers planted their flags in Myanmar, the government is finally starting to let them underwrite risk.
Earlier this week, the planning and finance ministry said that it will give five foreign companies provisional licences to operate life insurance businesses in the country — AIA, Chubb, Dai-ichi Life, Manulife and Prudential. They are expected to be up and running within six months.
"Myanmar is a nation of more than 54 million people with tremendous potential," said Evan Greenberg, chairman and chief executive of Chubb.
That is undoubtedly true, but it is still very early days for the development of the country's insurance industry. Premiums in the life sector amounted to just US$13 million 2017, but Dai-ichi forecasts that the market will grow 100-fold to US$1.3 billion within 10 years.
Assuming that its US$70 billion economy will double in the next decade, that would imply a modest penetration rate of around 1%.
"Myanmar has one of the fastest growing economies in South-East Asia, with significant development potential given its relatively young population, a growing middle class and rapid urbanisation," said Ng Keng Hooi, AIA's group chief executive and president. "We are excited to be able to play a role in Myanmar's long-term socioeconomic development."
The news came after officials said in January that they are finally ready to award licences to foreign insurers after years of preparation. Initially, three foreign life insurers were reported to have been invited to open wholly owned local subsidiaries, while other foreign life and non-life insurers would be able to form joint ventures with local partners.
Between January and April, two extra life insurers evidently succeeded in securing invites.
The companies will have to comply with pre-licensing conditions stipulated by the ministry before being granted the foreign life insurance licences. If granted a full licence, insurers will operate in Myanmar as 100% wholly-owned subsidiaries.
The move is part of Myanmar's insurance sector liberalisation roadmap, which the government passed "to accumulate the investment needed for the country's economic development and to develop the non-banking financial sector", according to the statement announcing the plan.
It has been a long time coming. Liberalisation has been just around the corner for several years now, with foreign insurers first setting up representative offices in 2013 in anticipation of reforms promised by the new government that came to power in 2011.
More than 20 firms have already established rep offices, but the wait has been too long for some. Korea's Samsung Life, which opened an office in November 2013, said it was leaving Myanmar in a sign of frustration over the delay in granting licences — just a day before the government announced the liberalisation in January.
Being allowed full licences will be a significant step up from the current operating environment for foreign companies. And for Myanmar, the hope is that foreign entrants will introduce improved products and distribution.
"The continued expansion and liberalisation of Myanmar's life insurance sector is expected to bring significant benefits to the country, including job creation, inflow of quality foreign direct investment and the development of long-term capital markets," said Nic Nicandrou, chief executive of Prudential Asia.
Even so, the country's 12 local insurers aren't so optimistic. With just six years of operating history, they have resisted the influx of competition, so it remains to be seen whether they will embrace the opportunity to form joint ventures with the foreign life firms that have not won full licences.
The government has said that it will decide which foreign companies will be permitted to pursue JVs by May, subject to a 35% ownership cap.
In addition to bringing knowhow and skills, the foreign firms will also inject capital. Once an insurance company is given a licence, 30% of its required capital must be in the form of government bonds, with working capital representing 60% and the other 10% deposited with the Myanma Economic Bank.
Much else still needs to be done. The regulatory framework needs updating and there is a lack of skilled people both on the regulatory and underwriting sides.
Indeed, the problem of a skills shortage had been anticipated by Maung Maung Thein, former deputy finance minister and chairperson of the Insurance Business Regulatory Board, back in 2014, when he announced a plan to open a national insurance college.
Unfortunately, that plan never came to fruition after he was replaced following the elections in 2015. It remains to be seen if the local insurance industry association will step up to provide some kind of training certification or curriculum, but there is clearly a need.
Myanmar is opening, but the journey ahead is long and fraught with challenges.