Lloyd's review points to more professional approach
July 10 2019 by Andrew Tjaardstra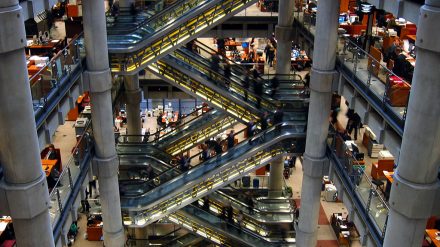 After some bad publicity, the recent clampdown on bad behaviour in the Lloyd's of London market is another example of how the market is trying to adapt a more professional approach.
Lloyd's has taken a number of steps to smarten its image including turning the on-site bar in London into a coffee house; Lloyd's Asia was one step ahead when it installed a coffee bar in its Capita Green headquarters in Singapore when the market moved from Asia Square in 2015.
Lloyd's is now conducting a market survey which it describes as the "industry's largest ever culture survey".
Despite all the talk of robotics, artificial intelligence and automated underwriting it is still people that count in insurance.
Talent needs to be continuously developed – from graduates to market veterans – as everyone still has something to learn.
The professionalism of the market – including the development of local talent – is steadily increasing. The Chartered Insurance Institute, with a Hong Kong office, and the Australian and New Zealand Institute of Insurance and Finance are helping raise standards, while some large universities have introduced insurance courses and the internet is helping to democratise market knowledge.
Insurance is changing faster than ever and time taken out at courses and attending conferences should be well regarded as a valuable use of time – rather than as some see it – as a chore to tick boxes.
The long-awaited introduction of the regulator in Hong Kong – the Insurance Authority – should also bring about a more professional market as smaller brokers up their capital requirements and reassess their operations.
The regulator begins officially on September 23, and brokers have until December 31 2021 brokers need paid up capital of HK$100,000 (US$12,800); brokers have from January 1 2022 to December 31 2023 to reach HK$300,000 and from January 1 2024 brokers will need HK$500,000 of paid-up share capital and net assets.
Moses Cheng, chairman of the IA, commented: "We are confident that the new regime will help enhance the professionalism of insurance intermediaries, promote fair and transparent regulation, and instil a robust but flexible approach in fulfilling our statutory function of protecting policyholders."
There are a host of other initiatives across the region including Vietnam's Insurance Supervisory Authority which has recently launched a professional competency framework (PCF) for the P&C market; this will involve a certification scheme and training modules.
The focus on installing greater discipline and having a workforce with greater knowledge may seem obvious but Lloyd's culture review and self-reflection shows there is plenty of room for improvement.