Philippines launches parametric disaster programme
August 18 2017 by Nick Ferguson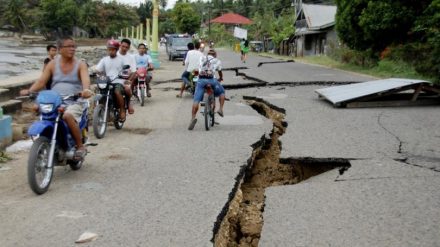 The Philippines has launched a pilot scheme to provide parametric disaster coverage for 25 at-risk provinces.
Supported by the World Bank and the UK's Department for International Development, the programme provides the Philippine peso equivalent of US$206 million in catastrophe risk insurance for coverage against losses from major typhoons and earthquakes via the Government Service Insurance System (GSIS), a government-owned insurance agency.
The scheme is financed through a catastrophe swap transaction that transfers the risk to a panel of international reinsurers that comprises Nephila, Swiss Re, Munich Re via its subsidiary NewRe, Axa and Hannover Re. Air Worldwide provides the underlying risk modelling for the transaction.
"Financial shocks caused by natural disasters undermine economic growth and poverty reduction," said Joaquim Levy, managing director and chief financial officer of the World Bank. "This new insurance programme illustrates how the World Bank Group can leverage capital from the market to help governments receive fast cash injections for emergency response and to sustain essential services in times of crisis, empowering local governments to more effectively assist their citizens."
The programme is the first of its kind in the Philippines and builds on six years of partnership with the World Bank, including the preparation of the first catastrophe risk model for the country and the adoption of a disaster risk finance strategy by the Department of Finance.
It is also the first time the World Bank has entered into a reinsurance agreement with a governmental agency, and the first time it is executing a catastrophe risk transaction in local currency.
The Philippines is among the world's most vulnerable countries to natural disasters. It is expected to incur, on average, US$3.5 billion in asset losses each year due to typhoons and earthquakes. The programme will act as the last line of defence, complementing other funding sources such as the national and local disaster risk reduction management funds and contingent credit that protect against less severe natural disasters.
"This initiative is a major advancement in the Philippines' efforts to bolster its resilience," said Mara Warwick, World Bank country director for the Philippines. "It demonstrates the global leadership of the country in developing innovative financial solutions to mitigate the financial impacts of extreme climate and weather-related events, as well as major earthquakes."