P&C players on the hook as China returns to work
April 21 2020 by Nick Ferguson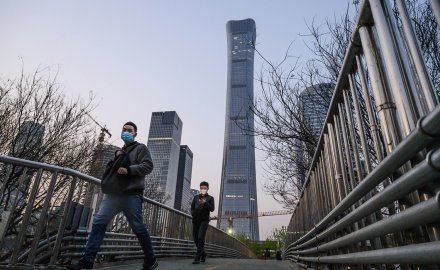 China's P&C insurers are set to lose money on coronavirus-related policies that they have been directed to sell by the Chinese government.
In a bid to get businesses back to work, insurers are providing coverage against liability for employee illness and death, and risks related to business interruption associated with property shutdowns due to infection.
This has put them on the hook for a range of potential losses, such as quarantine costs, staff salaries, housing rental, cash flow disruptions and refinancing difficulties caused by the shutdown, primarily for industries or sectors that local governments have prioritised for aid.
"Insurers in China…lack experience with such risks."
But the speed at which these so-called return-to-work (RTW) products have been created and the limited actuarial data available to price them means they could pose risks to P&C insurers' underwriting stability, said Terence Wong of Fitch Ratings in a commentary issued last week.
"The pricing adequacy of the RTW insurance associated with Covid-19 remains highly uncertain as the pandemic is still developing domestically and globally," he said. "A limited record of reliable and accurate historical data points poses a challenge for insurers to price the products accurately."
Revision
This difficulty was highlighted last week when officials in Wuhan revised the number of Covid-19 deaths in the city upwards by 50% to 3,869 amid growing questions about the accuracy of Chinese data on the extent of the outbreak.
Despite this lack of good quality data, 68 Chinese insurers have introduced coronavirus-related products since the start of the outbreak in late 2019, according to China's banking and insurance regulator.
Moreover, insurers in China also lack experience with such risks. Business interruption insurance is not commonly sold as part of commercial P&C policies in the country and is rarely bought even where it is available due to the high cost. Coverage for communicable diseases is even rarer, with most policies sold before the outbreak containing exclusions.
Indeed, claim payments related to Covid-19 amounted to just Rmb123 million (US$17.4 million) as of April 10, according to the Insurance Association of China, and business from commercial P&C only contributed about 3.6% of total non-life insurance premiums in 2019.
"The pricing adequacy of the RTW insurance associated with Covid-19 remains highly uncertain." Terence Wong, Fitch
It remains to be seen how much exposure Chinese insurers have taken on since the easing of restrictions on travel and the re-opening of factories and stores, but businesses have plenty of reasons to want to buy protection now that it is available.
"Demand for RTW insurance products is likely to persist in the short term as the coronavirus outbreak is still ongoing," said Wong.
This is probably an understatement, given that most of these return-to-work schemes have been backed by municipal and provincial governments in the form of significant subsidies, for at least 50% of the premiums paid to insurers and up to 70%.
Loss limit
However, insurers have been able to limit their potential losses, with claims ceilings imposed on each insured business. There are also caps on the maximum number of insured policies that insurers can offer in some regions, as well as limits on the duration of coverage, and the need for official approvals in some cases should act as a further limit on demand.
In the absence of reliable data on the spread of the outbreak, this should at least provide a clear understanding of the size of each insurers' risk exposure.
"These return-to-work insurance products are unlikely to cause material systemic risks to the non-life insurance sector due to limits on the scope and eligibility of the product coverage," said Wong.
The experience for individual insurers will vary, but the government is clearly keen to underwrite the country's return to normalcy as quickly as possible — and most insurers will interpret that as an implicit guarantee to protect them.
Whether it is wise to rush the country back to work is a different matter. Concerns about a secondary wave of infections have been highlighted by a recent resurgence of cases in Singapore, but China is clearly confident that the approach it adopted in Wuhan is effective and can be used elsewhere if necessary.
That is a big gamble, and one that insurers will be hoping they don't have to pay for.