Aon/WTW falls foul of antitrust's golden rule
June 22 2021 by Raymond Barrett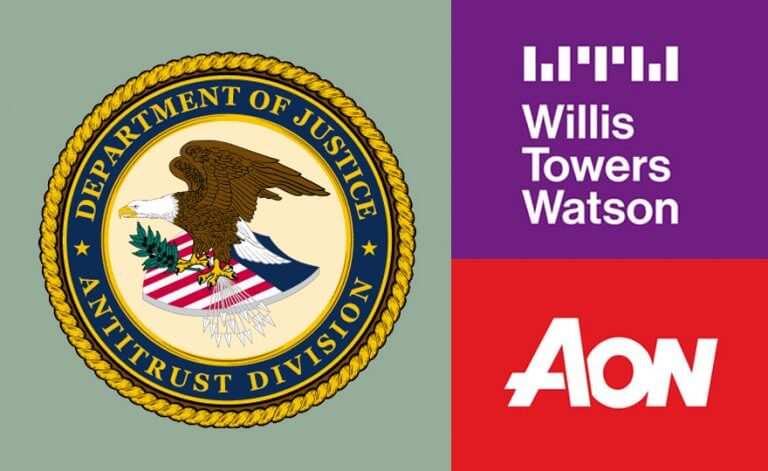 When I first started covering merger reviews in Washington a decade ago, competition law experts were quick to cite a so-called golden rule of antitrust: three-into-two does not go.
The assumption in such cases was that US antitrust enforcers — be it the Federal Trade Commission's Competition Bureau or the Department of Justice's (DoJ) Antitrust Division — take a particularly dim view of a deal that sees a market with three dominant players consolidate so that only two remain.
Apparently, such thinking is still in vogue as last week, the DoJ announced it was suing to block Aon's US$30 billion deal to acquire Willis Tower Watson (WTW) — a merger that would combine the second and third largest insurance brokers in the world.
A recurring motif in the Antitrust Division's complaint was its view that the relevant US markets are dominated by Marsh, Aon and WTW, whose annual revenues are approximately US$14 billion, US$11 billion and US$9 billion, respectively. (The next largest player is Arthur J. Gallagher & Co. at around US$6 billion — with the field dramatically falling off after that.)
"Together, Aon, WTW and Marsh … tower above other firms — so much so that they are often referred to as the "Big Three," the DoJ said in its complaint, adding that the merger would "eliminate substantial head-to-head competition and likely lead to higher prices and less innovation".
In particular, the DoJ cited five markets where competition would be impacted: P&C broking, health benefits, pension plans, retiree exchanges and reinsurance broking — a collection of concerns which suggest that this is not a scenario that can be easily fixed with just a few divestitures.
In this instance, the DoJ also cited some potentially troublesome internal communication at Aon — referred to as 'hot docs' in antitrust parlance — that seems to suggest the company knows the merger will significantly alter the existing market dynamics in its favour.
"[W]e have more leverage than we think we do and will have even more when [the] Willis deal is closed . . . we operate in an oligopoly which not everyone understands," the complaint quotes Aon's chief broking officer as telling his colleagues.
According to a report last week by the specialist M&A publication CTFN, Aon and WTW were surprised by the DoJ's decision to sue — and that there was no last-minute meeting to try and resolve any outstanding objections.
Given that the European Commission has reportedly agreed to approve the deal after extracting considerable divestitures from the merging parties, perhaps the lawyers for Aon and WTW engaged in a high-stakes game of chicken with the DoJ but misjudged the intensity of the agency's opposition.
In fairness, the DoJ's recent attempts to block a merger in court have been far from convincing and perhaps Aon and WTW are prepared to go to the mattresses to close this particular deal.
However, there is one element hanging over the transaction that even the best antitrust lawyer can't fix: politics.
During my time in Washington, my American colleagues would express shock and horror at the mere suggestion that the DoJ could ever be subject to political interference from 1600 Pennsylvania Avenue, but the Trump administration tore away and stamped on that particular sacred veil.
With President Biden now occupying the White House, the situation facing the merging parties has changed considerably from when the deal was announced last year. Democrats, in theory at least, are more combative when it comes to antitrust — more willing to block a merger rather than just give a corporation the benefit of the doubt.
While Aon and WTW are unlikely to abandon the deal and may yet offer more concessions ahead of a full trial, their proposed mega merger could end up being collateral damage as the new administration lets other would-be dealmakers know there is a new sheriff in town.
Partner Content
Digital transformation is at the heart of bridging protection gap and removing bottlenecks for farm cover in China and India.

Underwriter Victoria Soo and Senior Risk Analyst Daryl Soh on how credit insurance helps finance infrastructure projects and other ESG investments.