Motor premiums versus autonomy
January 12 2018 by Nick Ferguson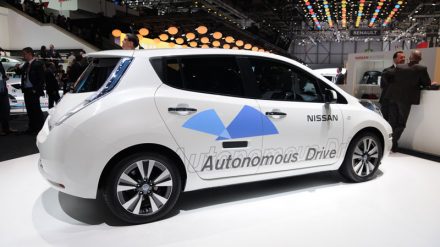 Autonomous vehicles pose a very real threat to insurance companies in Asia, where motor premiums dominate the property-and-casualty market in most countries.
Discussions about the adoption of such technology tend to focus on the US and other developed markets, but it is possible that emerging Asian countries will embrace self-driving vehicles with the same enthusiasm they have shown for smartphones.
After all, in countries where vehicle ownership is not entrenched, there ought to be much less resistance to the development of an ownerless model, which is one of the biggest changes promised by the development of fully autonomous vehicles during the next 20 years.
Instead of being owned by individuals, vehicles that can drive themselves will be owned by carmakers, tech firms and ride-sharing companies.
"Since insuring privately owned vehicles is what the auto insurance industry has been all about, insurers have every reason to be concerned about their future growth and profitability," wrote Accenture's John Cusano and Michael Costonis in a recent article for Harvard Business Review. "With fewer individual owners, there will be lower overall premiums. And since as many as 94% of accidents are attributed to human error, the number and severity of accidents and insurance claims will drop, also leading to lower premiums as insurers learn to price in accordance with real risk."
Research by Accenture and the Stevens Institute of Technology indicates that individual premiums in the US will start to drop by 2026 — due both to falling private ownership and fewer accidents — as large numbers of autonomous vehicles begin to appear. Premiums could drop by as much as a US$25 billion by 2035.
"This is significant for a roughly US$200 billion market," said Cusano and Costonis.
In Asia, rapid urbanisation and rising property prices could help to further accelerate the adoption of such trends. When most journeys are short and the opportunity cost of owning an unused car is high, it may make sense for people to forego direct ownership.
"Unlike individual car owners — whose vehicles typically sit idle most of the time — fleet owners can send autonomous vehicles out on multiple trips on a 24-hour basis, amortising the cost of ownership," according to Cusano and Costonis.
However, the current assumption is that this will happen very gradually. There are considered to be five levels of autonomy, which can be broadly summarised as:
·      Level 1: hands on
·      Level 2: hands off
·      Level 3: eyes off
·      Level 4: mind off
·      Level 5: steering wheel optional
To give an idea of where we are on that scale, the new Audi A8 promises to be the first car with (albeit limited) level three autonomy. (Coincidentally, this is also one of the most popular cars in China among government officials.) Meanwhile, several carmakers are already working on models with level four autonomy and could be selling them within three or four years.
But insurers need not worry too much, according to Accenture, which estimates that the switch to autonomous vehicles has the potential to generate new insurance revenues.
"Converting this opportunity will not be easy, but insurers taking action now will, we believe, have an important first-mover advantage, not only over other insurers, but against new disruptors such as automotive manufacturers and over-the top players providing internet content and services," said Cusano and Costonis.
New revenues could come from selling cyber policies, as fleets of autonomous vehicles owned by large corporations will be exposed to multiple avenues of attack; product liability, which may arise from software bugs, memory overflow or algorithm defects; and infrastructure insurance to protect cloud server systems, signals and other safeguards that will be put in place to protect riders and drivers.
Of course, the key is to actually take action. Insurers that have gained dominance through the traditional motor segment have the most to lose, but this is typically also a competitive business with tight margins. If they cannot find the capital to invest in new products, there may indeed be room for disruptors that have the skills to attract investment. This is no time to turn on the cruise control.
MORE FROM: Property & Casualty