Motor still at heart of Asia's market
June 10 2019 by Andrew Tjaardstra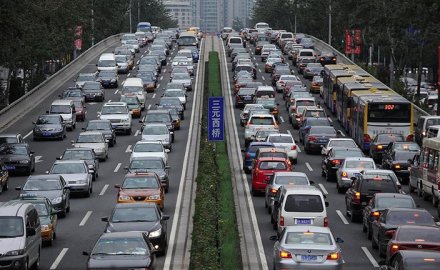 The everyday traffic jams in many major cities across Asia suggests motor insurance is going to be a critical part of the P&C market for decades to come.
While billions have been invested into autonomous vehicles and public transport infrastructure, including subway and train networks, the desire and need for cars is still as strong as ever.
While Jakarta opened its first subway line in March, similar projects in cities such as Mumbai are still years away from completion and many cities urgently need public transport updates; however projects can take years or decades — often with delays — and cost tens of billions of dollars to finance.
In 2017 the car insurance market was worth around US$112 billion of premiums in China alone with 235 million cars on the road; the Chinese bought 24 million cars in China in 2018. US giant General Motors sold 917,000 cars in Asia during the first three months of 2019 — far more than in the US.
The number of cars in South-East Asia has more than doubled since 2000 and 30 million more are expected to hit the roads by 2040.
The majority of these new vehicles, especially in the near future, will still be powered by fossil fuels as it is the dominant source of power in the continent and any plans to phase out such vehicles often stretch to 2040.
There has been a slowdown in sales in some countries in Asia, including China, however the long-term future is bright for the sector — particularly if car companies can carefully match capacity with demand.
The repetitive premiums earned through car insurance — often the heart of an insurer's planning process for other products and services; these are also often connected to motor, such as telematics, car finance and other after sales initiatives.
Despite improvements in safety features and to the quality of roads — the inherent risks in motor travel will always be there — a momentary lapse in concentration can lead to death, injury, crumpled cars, lost productivity, police sirens and a claims dispute.
Meanwhile the same challenges of claims inflation, market competition, spending on advertising and premium rates will also always keep insurers on their toes.
With so many cars on the road in Asia at anyone time it is insurers who are at the front line in dealing with the fallout — hospital bills need to be paid, families supported, cars repaired, hire cars be made available etc.
Adverse weather still too often causes accidents as storms come suddenly in the region and the roads are often not good enough to cope.
While the rise hasn't been as quick as some hoped, the amount of investment in this area suggests that electric motor manufacturers have a rosy decade ahead.
Challenges persist — for example a Hong Kong government scheme to make every taxi electric by 2019 has long been kicked into the long grass; there were issues over charging times, resistance from taxi drivers and problems with supplier BYD to make the scheme cost effective.
Singapore has had similar issues adopting electric cars, showing that even in well-run, centrally planned countries it is tough to make the switch from fossil fuels.
However, China and other countries in the region are having greater success with the likes of Shenzhen's bus fleet already electric; newly discovered large deposits of lithium in Yunnan province are likely to help this push.
If autonomous vehicles eventually do take over Asia's roads then the opportunity for insurers will be product liability insurance as well as cyber protection; meanwhile it is the traditional motor vehicle that is still ruling the road in Asia.