Millions more living in Japan's flood zones: study
December 18 2018 by InsuranceAsia News Staff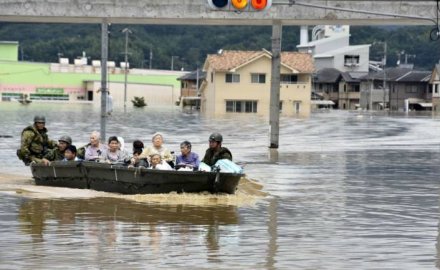 More people in Japan are living in areas with potential risks of flooding compared with two decades ago as a result of residential development on suburban fields, according to an extensive study.
The figure stood at around 35.4 million in 2015, up 4.4% from 1995, according to research by Yasunori Hadaan, associate professor of regional disaster prevention at the University of Yamanashi in Yamanashi Prefecture, said the Japan Post.
By prefecture, Kanagawa had the fastest increase in population in a flood-prone area at 17.4%, followed by Tokyo at 15.3% and Okayama at 12.8%.
The number of households in areas designated as flood-prone by central and local governments climbed 24.9%, to about 15.3 million, in the same period, according to the study that was based on flooding hazard maps for the fiscal year of 2011 and the national census, conducted every five years.
Hada said there was an increase in the number of people and households in suburban areas at risk from flooding because land and homes are cheaper there than in central city areas.
The study comes as the nation's top three P&C insurers have been forced to pay out a record ¥1 trillion in claims so far this year as a result of natural disasters. The country has seen multiple strong typhoons, earthquakes and heatwaves. It has been such a difficult year that the Japanese public has picked the Chinese character for "disaster" as its defining symbol for 2018.