Advanced analytics to propel Asean growth, says Malaysian Re
November 29 2018 by InsuranceAsia News Staff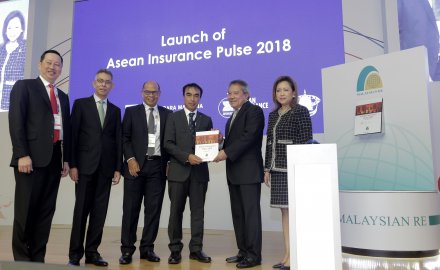 Strong premium growth, favourable demographics thanks to a comparatively young population and a growing middle class are the main strengths of the Asean insurance markets, according to new research.
The study, published in the latest Asean Insurance Pulse report from Malaysian Re and Dr Schanz, Alms & Company, which is based on interviews with senior market executives, found there are opportunities arising as digital technologies and advanced analytics improve the affordability and appeal of insurance products.
While the region's non-life insurance penetration is still less than a third of the global average, microinsurance is expected to expand as technology reduces the cost of distribution and claims settlement.
Zainudin Ishak, chief executive of Malaysian Re, commented: "To close the gap between economic and insured losses, recommendations [from the research] range from enhanced public-private partnerships, the introduction of subsidised schemes, the provision of tax incentives and compulsory insurance requirements to awareness and education campaigns."
Across the Asean markets, rates in commercial lines are seen as below their three-year average, while personal lines are assessed more favourably. Personal lines are characterised by a smaller number of players, higher barriers to entry, greater customer loyalty and more scope for differentiation through non-price competition — for example product innovation.
The pricing outlook for the next 12 months is mixed, as half of the executives interviewed expect further rate decreases in commercial lines, while only 23%, compared with 57% last year, of interviewees expect continued pressure on rates in personal lines.
This more positive outlook reflects the expectation that rates will rebound from last year's de-tariffication in Malaysia and the need and scope for repricing in order to respond to increasing claims inflation.
In commercial lines, for more than half of the interviewees, profitability is below the three-year average as several major recent losses have taken their toll. In personal lines only a third of executives think that technical profitability is below the three-year average as personal accident, travel, household insurance as well as the bancassurance business performed strongly.
The research was launched at the Asean Insurance Summit in Kuala Lumpur on November 28.
Pictured in the photo at the Summit from left to right is: Patrick Teoh, chairman of Asean Insurance Council; Mohd Din Merican, president and group chief executive, MNRB; Zainudin Ishak, president and chief executive, Malaysian Re, Adnan Zaylani Mohamad Zahid, assistant governor of Bank Negara Malaysia, YBhg. Dato Sharkawi Alis, chairman of MNRB Group and Evelina Pietruschka, secretary general of the Asean Insurance Council.