Managing flood risk
November 1 2015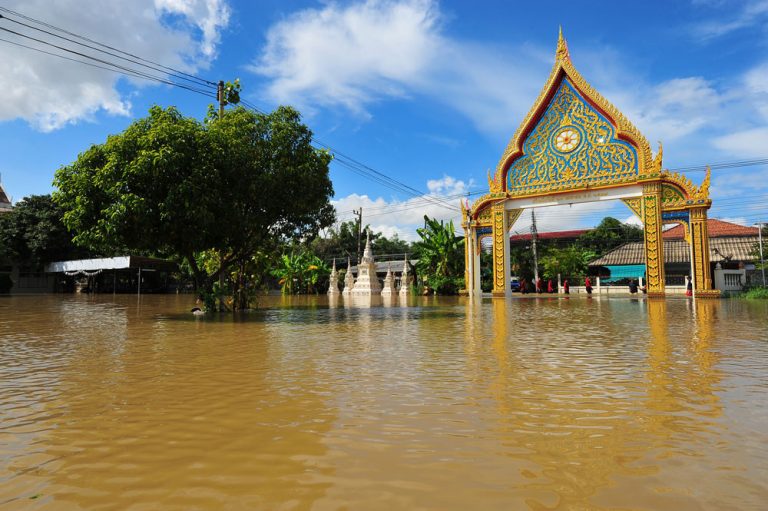 On a global basis, flood is the most significant natural peril not comprehensively modelled for insurance purposes. In Asia, flooding is of particular concern because highly populated areas are prone to floods from typhoons and monsoons.
India, Bangladesh and China account for 55 percent of the global population at risk of flood. Asian countries comprise eight of the 10 highest flood risk nations, according to WRI. Additionally, Asia has seen a boom in the construction of industrial parks that, while contributing significantly to local economies, results in high concentrations of insured values that can be at risk of flooding. This problem became apparent in the 2011 Thailand flood event when heavy monsoon rains combined with rain from several tropical storms and resulted in significant flooding of the Chao Phraya basin. The flooding impacted a number of high value industrial parks to the north of Bangkok and produced economic losses of more than USD 46 billion and a record-high insured loss of about USD 15 billion.
Outside of the industrial parks, insurance penetration in Asia remains low compared to other parts of the world. However, as the economies of the Asian nations develop, so too will the demand for insurance. While there is considerable opportunity for growth in the region, it is hampered by a lack of model support. To address this problem, Guy Carpenter produced the first insurance flood model for Thailand, released in 2008. Since then, Guy Carpenter has expanded its flood models for a number of other countries in the region including China, India, Indonesia, Malaysia and Japan.
Guy Carpenter has more recently embarked on a new global program to improve the coverage and quality of available flood models, which began with the Canadian flood model released in April 2015. This development program aims to produce a range of new, high resolution models integrating best-in-class components. As part of this development, Guy Carpenter has been working with key partners, from local experts to global flood modellers to gain multiple views of the hazard. When combined with Guy Carpenter's core expertise in probabilistic damage assessment and model development, we can produce a range of useful outputs including underwriting tools, loss scenarios and full probabilistic models to help our clients with their original underwriting and in designing their reinsurance program.
Over the past few years there has been a push towards increased model transparency as insurers seek to have more insight and control over their risk. To this end, one of the most important initiatives has been the development of the Oasis loss modelling platform by the insurance industry to provide a high performance, robust and open basis for sharing models and expertise. The new generation of Guy Carpenter flood models will utilize the Oasis platform.
Guy Carpenter aims to deliver a comprehensive, scientifically sound and transparent view of risk for our clients. To accomplish this we employ the best models and data available and complement our work with internally developed models. Guy Carpenter's model development program is closely linked to our Model Suitability Analysis (MSA)® system that provides a transparent, rigorous and systematic approach to assessment of catastrophe models. The MSA methodology involves executing a series of standardized tests that compare model assumptions to independent scientific and engineering data sets. MSA allows our clients to have clarity around how the models perform both in terms of the underlying components and for their particular portfolios. Models can then be adjusted, if necessary, where there is scientific justification in order to provide a more accurate assessment of risk. Within the Asia region, Guy Carpenter has carried out MSA studies for the commercially available typhoon and earthquake models.
Guy Carpenter has long been a pioneer in flood modelling in Europe, Latin America and Asia. The new generation of flood models is another example of Guy Carpenter's innovative approach to creating a solution that allows clients to successfully assess and manage flood risk.
Guy Carpenter & Company Private Limited
8 Marina View #09-06,
Asia Square Tower 1,
Singapore 018960
Hemant Nagpal
Email: [email protected]
Tel: +65 6922 1948
Michael Owen
Email: [email protected]ycarp.com
Tel: +65 6922 1951
Partner Content
Digital transformation is at the heart of bridging protection gap and removing bottlenecks for farm cover in China and India.

Underwriter Victoria Soo and Senior Risk Analyst Daryl Soh on how credit insurance helps finance infrastructure projects and other ESG investments.