Lloyd's falls to US$1.3bn loss
March 28 2019 by Andrew Tjaardstra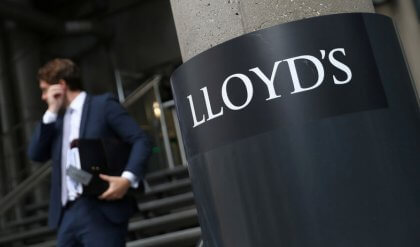 In 2018 Lloyd's made an aggregated market loss of US$1.3 billion for 2018 compared with a loss of US$2.6 billion in 2017.
Lloyd's paid the price for several large natural catastrophes, including hurricanes Florence and Michael in the US, and Typhoon Jebi in Japan, in addition to the deadly and devastating Californian wildfires.
These disasters led to major claims costing the Lloyd's market US$3.9 billion, significantly higher than the long-term average of US$2.5 billion; this contributed to a combined operating ratio of 104.5% in 2018. The market paid US$26 billion in claims in total last year.
The underwriting profit and loss in business lines were: a US$600 million loss in reinsurance; a US$922 million loss in property; a US$241 million loss in casualty; a US$452 million loss in marine; a US$65 million loss in aviation; a US$149 million profit in energy; and a US$16 million profit in motor.
Investment income fell to US$659 million compared with US$2.37 billion in 2018.
Total assets grew by 9% to US$149.9 billion and Lloyd's net resources increased by 2% to US$35.8 billion. Meanwhile, Lloyd's central assets also saw growth of 8% to US$4.1 billion; this financial security underpins every Lloyd's policy.
Against a backdrop of global uncertainty and challenging market conditions, Lloyd's 2018 aggregated results showed green shoots of improvement. After several years of rate softening, the pricing environment saw strengthening by 3.2% on renewal business and the beginning of improvement in the attritional loss ratio, which reduced 1.3% on the previous year.
Meanwhile, the Lloyd's market, of which 11% of its business is placed in Asia, continued to focus on driving improved performance. A rigorous business planning process for 2019 removed almost US$4 billion of poorly performing business from the market and remediation plans were implemented across all review classes of business.
Lloyd's chief executive John Neal said: "The market's aggregated 2018 results report a combined ratio of 104.5%, and a £1 billion [US$1.3 billion] loss. This performance is not of the standard that we would expect of a market that has both the heritage and quality of Lloyd's. We have implemented stronger performance management measures which will remain an enduring feature of how we go about our business. We expect these actions to deliver progressive performance improvement across the market beginning in 2019 and in the years to come.
"Over the last six months we have asked hundreds of stakeholders to tell us how we should evolve Lloyd's to build a collective vision for the future. We have today released a preview of this vision in advance of a full prospectus to be published on May 1 that discusses the future of insurance at Lloyd's."
The vision includes a two platform Lloyd's, real time capital and market-wide data sharing.
Lloyd's has also said it is taking robust action to address sexual harassment following recent revelations about poor attitudes towards women from some senior members of staff in a recent Bloomberg article.