Lion Air crash raises complex liabilities
November 16 2018 by Nick Ferguson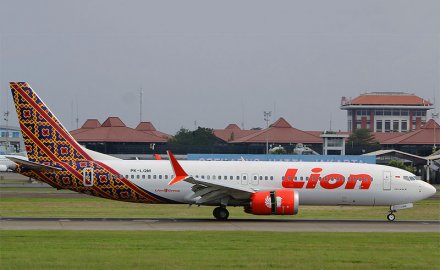 When a low-cost Indonesian airliner crashed into the Java Sea shortly after takeoff two weeks ago, cynics could be forgiven for assuming the accident was just another product of a country infamous for its lax safety culture.
But that may not be the whole story. In response to the accident, Boeing issued a bulletin warning pilots about how to deal with unwanted intervention by an automatic system that is new to the 737-Max, a new variant of the aged airliner type that was launched in 2017. The new system, which pilots had not previously been briefed about, is designed to prevent aerodynamic stall and may have contributed to the Lion Air crash.
Which version of events emerges as the truth could affect hull rates for the country's aviation industry. It could also have much broader implications.
It was only in June this year that the EU lifted its ban on Indonesian airlines operating in its airspace. It was originally imposed in 2007 due to concerns about regulatory oversight, though Lion Air was one of the few to have been exempted from the ban sooner, in 2016. Regardless of whether airlines actually fly to the EU, the ban has made it more difficult and more expensive for Indonesian operators to insure their aircraft.
In this case, Lion Air JT-610 was reportedly insured with a hull value of US$60 million under a policy led by Global Aerospace, while Jakarta-headquartered Tugu Insurance provided liability coverage, which is expected to pay out around US$16 million in total to the families of the 189 people killed in the accident.
This is not the first time Lion Air has lost an almost brand new 737. In 2013, a two-week-old 737-800 overshot the runway in Denpasar and ended up in the sea. And in 2016, the airline was told to improve its training procedures after another runway excursion during a landing at Surabaya.
At first, this latest crash appeared to be just another incident involving an Indonesian airline with a chequered history, particularly after it emerged that pilots flying the aircraft had reported problems with unreliable airspeed indications on the four previous flights, which led to problems handling the plane. Lion Air's maintenance practices came under scrutiny as a result.
But it now appears that unannounced changes to the automated systems on board the 737-Max were at least contributory factors. Pilots unions have since complained that the Manoeuvring Characteristics Augmentation System (MCAS) is not mentioned in Boeing's manual for the aircraft.
The plane's powerful new engines and other design changes led to the introduction of the new system to protect it from stalling. MCAS relies on data from angle-of-attack sensors that let it know when the nose is pitched too high — and responds by taking control of the rear stabiliser and pointing the nose down.
In the Lion Air crash, it seems that the system was being fed bad data and pushed the nose down unnecessarily. With no knowledge of why the plane was doing this, the pilots were placed in a difficult situation.
Tim Canoll, president of the Air Line Pilots Association, said this week that he was "concerned that a potential, significant aviation system safety deficiency exists" in a letter to the Federal Aviation Administration (FAA)."There appears to be a significant information gap, and we want to ensure that pilots operating these aircraft have all of the information they need to do so safely."
There are roughly 220 737-Max currently operating, with more than 4,000 orders lined up. Lion Air is the third biggest customer for the new variant, with an order for 251, 13 of which have been delivered. Neither Boeing nor the FAA has chosen so far to ground the aircraft type, but there are clearly concerns around the new system.
As automation plays an increasingly important role in modern cockpits, pilots are being asked to manage ever more complex systems that can be difficult to understand in an emergency. Until recently, Boeing's design philosophy had emphasised the ability for pilots to easily switch off the automation and revert to manual flight controls with a direct connection from the yoke and pedals to the flight surfaces. That does not seem to be the case in the 737-Max.
Even so, automation has introduced an unprecedented level of aviation safety, with insurance premiums falling to record lows during the past decade. It remains to be seen whether these gains will continue or whether the complexity of automation is beginning to introduce its own risks.