Liberty Mutual Re's hire in Singapore flags Asia ambition
January 17 2020 by Nick Ferguson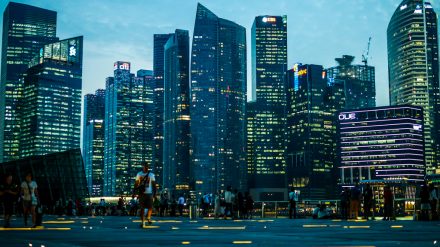 Liberty Mutual Re's opening of a new office in Singapore shows the importance of having resources on the ground in Asia to further penetrate the market.
It is also now in a better position to adapt to the changing operating environment in Singapore which includes more of an emphasis from the Monetary Authority of Singapore to deal locally; the scrapping of the Lloyd's Singapore broker scheme is one example of this.
"This is the right time to establish ourselves locally in the region." Dieter Winkel, Liberty Mutual Re

The office will operate with a full treaty reinsurance licence as part of Liberty Specialty Markets and will have local underwriting authority using Liberty paper. It will be headed by former Aspen Re underwriter Annie Leong who becomes regional underwriting manager for LM Re in Asia Pacific.
"For many years, we have participated in this market as a treaty reinsurer of property, casualty and specialty lines," said Dieter Winkel, president of Liberty Mutual Re. "The portfolio has been driven by the underwriting teams in our existing offices and platforms across the UK and Europe. This is the right time to establish ourselves locally in the region."
Leong will focus on building the franchise locally and be central to Liberty's Asia-Pacific portfolio as a whole, the company said.
Leong reports locally to Matthew Jackson, Liberty Specialty Markets Asia leader, and Peter Smith, executive underwriting officer at Liberty Specialty Markets in London. At Aspen Re she was a senior underwriter focusing on specialty lines for Asia Pacific.
The decision to hire Leong comes at an opportune time.
Notably, specialty lines were the single biggest contributor to premium growth across the whole Liberty Mutual group during the first nine months of 2019, with the Liberty Special Markets business booking an increase of 15% over the same period in 2018, driven by lower reinsurance purchases, new business and positive rates — and despite foreign exchange losses from the pound as a result of the UK's exit from the EU.
Market conditions are nevertheless still challenging, with the global risk solutions business incurring a combined ratio of 105.2% for the first three quarters of 2019, up from 99.3% in 2018, largely due to loss creep from previous years.
Future of Lloyd's
Many Lloyd's members are facing challenging times. The average combined ratio across all syndicates was 104.5% in 2018 with a total loss of £1 billion (US$1.4 billion) — and their fortunes may have deteriorated further in 2019.
But no matter the financial performance, 2019 will be remembered more for the damage to the market's reputation, amid heightened public scrutiny on sexual harassment and boorish, boozy behaviour in general.
And just as it seeks to rebuild both its reputation and its profits, one of the principal architects of the Future of Lloyd's Blueprint One plan has announced his intention to leave. Jon Hancock said this week that he would step down as performance management director later this year, though it is not clear when exactly he will leave.
"[Hancock's] leadership in performance is without parallel, and his sponsorship of Blueprint One was critical in the production of a future strategy for the Lloyd's market," said chief executive John Neal. "His will be big boots to fill."