Leaked documents show market cooperation with Adani mine
June 12 2020 by Yvonne Lau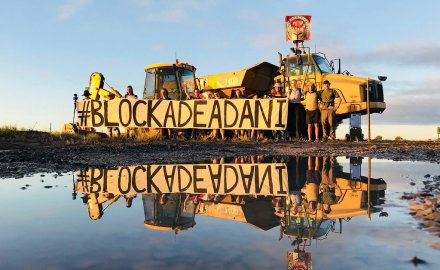 The contentious Adani Carmichael coal mine in Australia's Queensland has received support from various (re)insurers and one broker, says a new report by the Sydney Morning Herald.
According to leaked internal invoices seen by the paper, Aspen Re covered work for Adani this January. Axa XL, HDI Global and Liberty International Underwriters (now known as Liberty Specialty Markets) had billed Adani Group for policies covering construction last November.
Meanwhile, Marsh has been involved since 2015, when Adani hired them to be the broker facilitating cover for the mine.
A spokesperson for Axa XL told InsuranceAsia News (IAN): "Axa XL do not currently have a live insurance policy for the Carmichael mine's assets, neither directly nor through packages, and we do not intend to do so in the future."
IAN spoke to a representative for Liberty Specialty Markets, who said: "Liberty Mutual and Liberty Specialty Markets do not have any current policies in place for the Adani project."
They explained that the company in January 2019 "informed the appropriate parties" they would not participate in the insurance program for the operational phase of the project. "Prior to that, [Liberty] had in-force a small piece of the insurance program for early-works site construction."
Liberty remains contractually obliged to a 24-month maintenance period for defects that may arise in the construction following the conclusion of the period of coverage.
Aspen Group told IAN: "We do not discuss individual insurance policies. We are currently reviewing our underwriting appetite around fossil fuel but cannot comment further at this time."
"Aspen understands the importance of environmental, social and governance issues. We have taken a number of steps to reduce our carbon footprint as a business, including offsetting our emissions for 2019. [And] we recently joined the united Nations Global Compact (UNGC) initiative."
Marsh declined to comment for this piece.
As of June, 16 insurers have stated they will not provide cover for the mine — including Australian majors Allianz, Suncorp and QBE. Others on the list are Axis Capital, Hannover Re, and more; while some companies have caveats.
The number of market players exiting and pledging to retreat from coal cover has increased significantly in recent years, due to heightened public pressure and awareness of coal's climate impacts.
The Carmichael coal mine run by Indian conglomerate Adani Group, has become a significant flashpoint in Australia.
In June 2019, the project was approved by the government — following two years of environmental assessments and the inauguration of prime minister Scott Morrison. But there has been fierce pushback from climate activists and scientists.
A recent paper published by Australian scientists in academic journal 'Nature Sustainability,' highlighted that the state chose to ignore findings that the mine could cause "irreversible ecological and cultural damage" to the Doongmabulla Springs. 
Activist group Market Forces says that the Carmichael mine will "drain critical water resources from drought-stricken regions, [put] the already-distressed Great Barrier Reef at [further risk] and fuel runaway global warming."
To read more on (re)insurers' retreating from coal, see here.