KPMG: Orchestrating personalised experiences helps Asia's insurers reap rewards
April 21 2022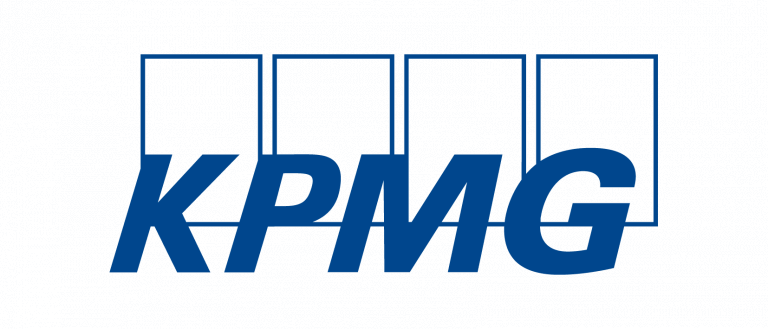 The key lessons from KPMG's Customer Experience Report 2021.
In the KPMG Customer Experience Excellence (CEE) Research 2021, insurance was ranked one of the top performing sectors for customer experience (CX) in Asia, sealing the top spot in Hong Kong (SAR), China, and Indonesia, and the second spot in Thailand. The research across eight countries in Asia assessed the leading CX practices and involved over 13,600 consumers rating their experiences with 500 cross-sector brands.
This spells good news for insurance companies, who were seen as being late adopters of CX principles. There has been a clear move among Asia's insurers towards simplification and greater agility by leveraging enhanced data analytics, AI capabilities and ecosystem partnerships to deliver a more seamless customer experience. There was also a conscious effort from insurers during the pandemic to offer holistic approaches for health and wellness, increasing transparency and simplifying claims' processes. All these efforts have helped enhance customers' faith in the industry, increase retention and create stronger brand loyalty.
The biggest improvement in customer experience performance was seen in Thailand compared to 2020 scores. In fact, the top performers in Thailand and Vietnam were insurance companies. Moreover, five of the top 10 rankings were taken up by insurance companies in Hong Kong (SAR), China and Thailand. The Insurance CEE score in Hong Kong (SAR), China, Indonesia, the Philippines, Thailand and Vietnam were also found to be above the market average.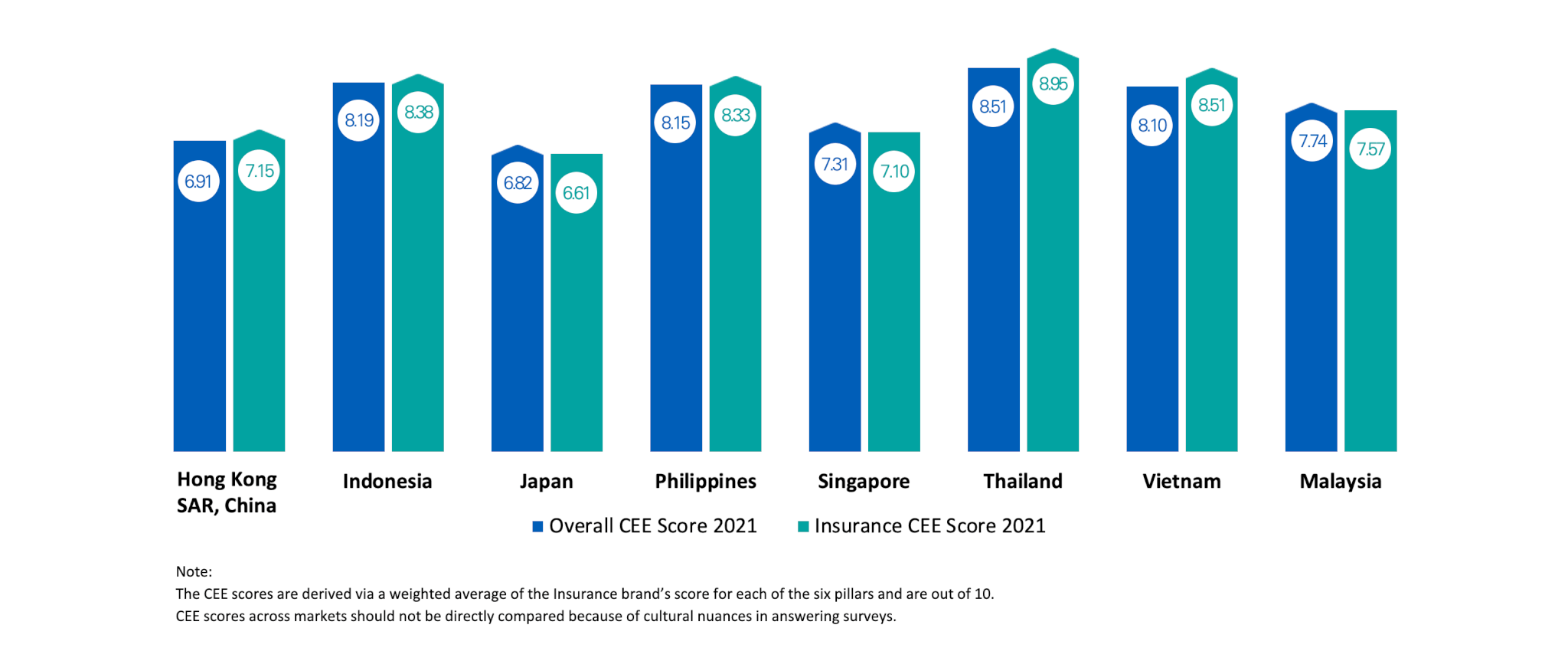 The research explores how brands fare for each of The Six Pillars of Customer Experience – Personalisation, Empathy, Integrity, Time and Effort, Resolution and Expectations – a set of characteristics that are typical of world-class customer experiences.

There are a few key trends that emerge in the insurance sector based on these findings. Firstly, the perception of insurers is improving. The pillars of personalisation, empathy, integrity and resolution among insurers have improved significantly in 2021 compared to 2020. This could be attributed to  initiatives around well-being and mental health introduced in the wake of the pandemic.
There is also an increased focus on human connection at a personal level. In five of the eight markets studied, personalisation is a clear feature driving brand advocacy. Customers value personalisation that goes beyond just "know me" to "understand me" and insurance firms in Asia are responding adequately, combining human empathy with innovative technology to deliver more emotionally connected experiences. One of the leading insurers in Hong Kong (SAR), China for example, developed a "Protection index" service on their mobile app, offering users an instant check on their protection gap and thereby enhancing the experience. It analyses the protection needs of the customer and uses AI and cloud computing to show the difference of protection gap compared to other customers with similar behaviour dynamics.
Customers today are also seeking much more than personalisation. Our survey found that nearly two-thirds of customers in Asia are willing to pay more to a company they see as being ethical or giving back to the community. Consumers also have a higher appreciation for brands who engage in Environment, Social and Governance (ESG) initiatives and whose values align with their own.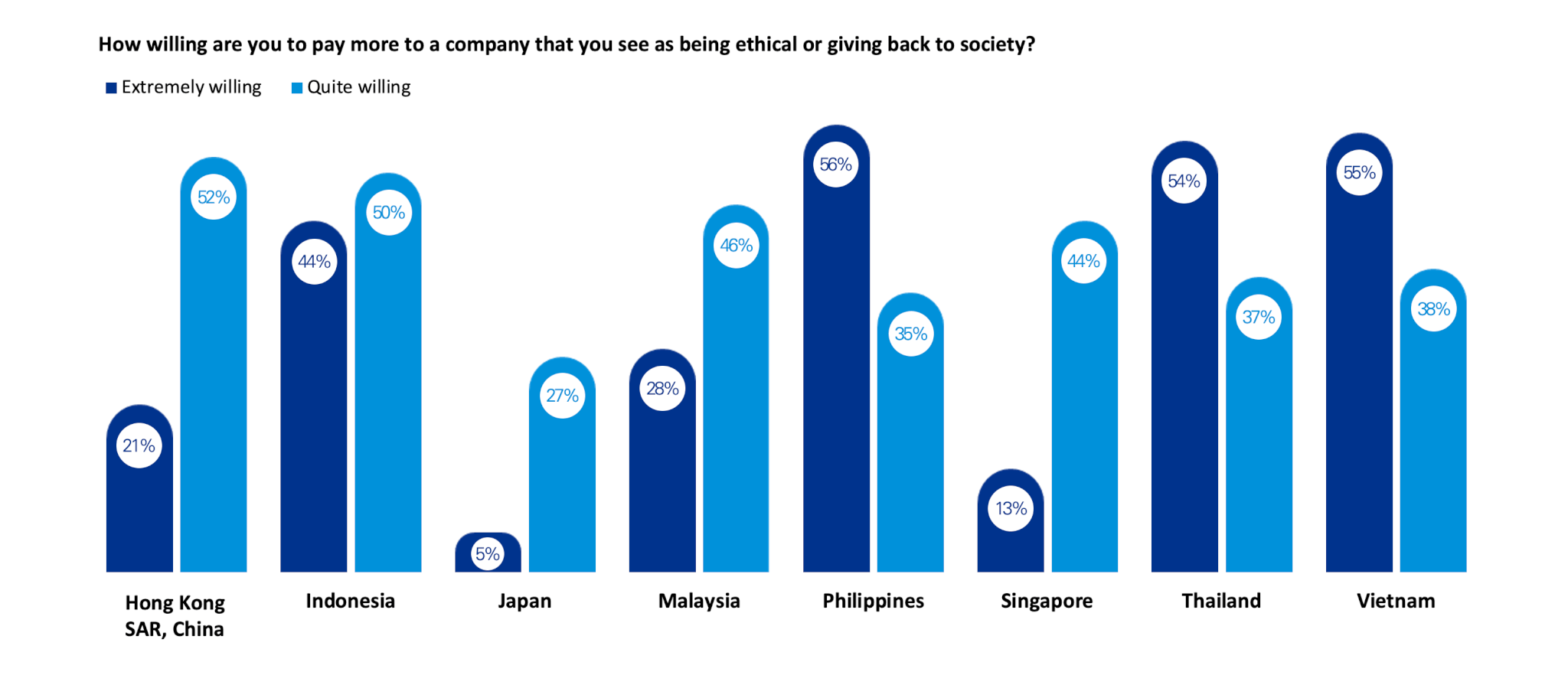 What can insurers do to act on these trends and continue improving experiences for customers? For a start, they should move away from a product-centric approach towards taking a customer journey view. Insurers should revisit their customer journeys, break down complexity, align the business around customer needs and make digital investments work to close any gaps. This means connecting front, middle and back office to drive synergies, and also linking partners and channels to fulfil the promises made to the customer.
Communicating values and focusing on things that matter to customers is more important than ever. Now that we see a demand among customers for a commitment to ESG initiatives, and even a willingness to pay, it is essential for insurers to make this a priority. If they are already engaging in ESG efforts, insurers should continue to build on their customers' trust and amplify the communication of their values.
Technology investment should be looked at through the lens of orchestrating experiences around the customer. Insurers will have to embrace agility at scale going forward and align customer journeys with internal departmental responsibilities. New technologies will require new ways of thinking, such as moving from the traditional waterfall model to minimum viable product releases refined and improved with feedback.
Adopting a relentless focus on data can help insurers identify and prioritise the key drivers of customer experience, whether it is improving claims management, policy documentation or for speeding up policy serving. It is crucial for insurers to have an "outside-in" perspective, an understanding of who they want to have as a customer and how they're competing in the marketplace. Tapping into their data and analytics capabilities will allow insurers to get a deeper, 360-degree perspective of the customer, and to provide hyper-personalised experiences.
Last but not the least, a good customer experience is only possible with the help of a talented team. Insurers should make every effort possible to identify the right talent, provide them with adequate training and create robust measurement frameworks to track the results of the initiatives.
Insurers in Asia have introduced several initiatives to improve customer experience and customers have responded positively, as demonstrated by the results from KPMG's CEE 2021 report. At the same time, we also see key trends emerging such as the continued importance of human connection and ESG initiatives. Insurers should look to capitalise on these trends and build on the progress they have made by using their teams, technology, and data to orchestrate experiences around the customer. Customers may always benchmark against their best experience regardless of sector. As such the goal post for ideal experiences continues to move, pushing insurers to keep forging ahead in their transformation.
To discover more  insights for the insurance sector in Asia, download KPMG's Customer Experience Excellence Research 2021.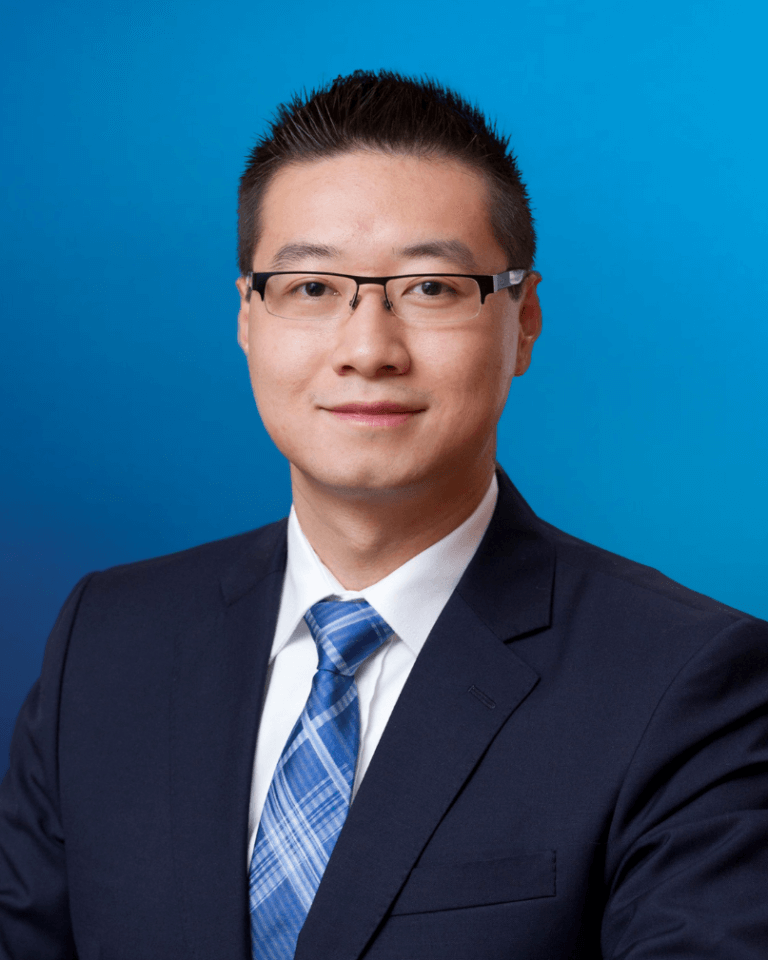 Sean Ren
Director, Strategy & Operations, Hong Kong (SAR), China
KPMG China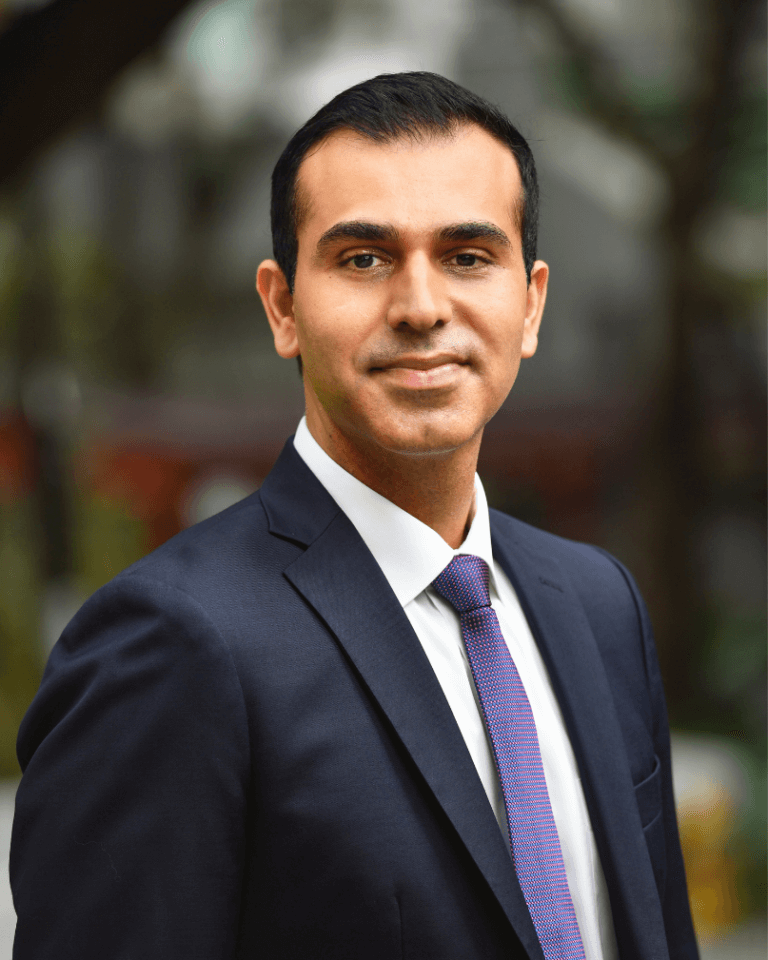 Nikhil Chadha
Manager, Strategy & Operations, Hong Kong (SAR), China
KPMG China
Partner Content
Digital transformation is at the heart of bridging protection gap and removing bottlenecks for farm cover in China and India.

Underwriter Victoria Soo and Senior Risk Analyst Daryl Soh on how credit insurance helps finance infrastructure projects and other ESG investments.