Japan's typhoons spur sophistication
November 27 2019 by Andrew Tjaardstra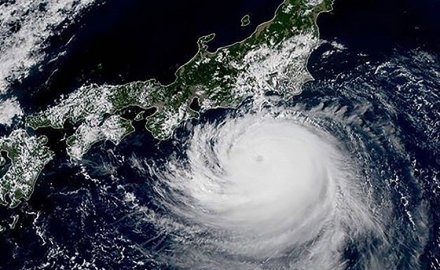 While some are a little tired of reading about Japan's recent storms, they are evidence of how sophisticated the market is becoming in the trickiest of circumstances.
Indeed, competitive instincts mean there is no time for self-pity, only a time for action.
Margaret Joseph, senior product manager of the RMS Japan Typhoon Model, has said: "The combined losses from the two recent storms, Typhoon Hagibis and Typhoon Faxai, could rival insured losses from Typhoon Jebi that struck Japan last year."
While the modelling agencies may not have had the best time estimating Jebi's losses, they have quickly learned from it and are more determined than ever to improve.
The quick succession and scale of the storms has also meant claims professionals being rushed off their feet surveying the damage of tens of thousands of properties and supporting hundreds of thousands of customers; meanwhile the market facilitates billions of dollars of capital to help rebuild homes and livelihoods.
Claims will be paid; homes rebuilt; and businesses reborn. The market is battered by storm after storm, but can still efficiently fulfil the promise of paying out; if this is not the definition of sophistication, then what is?
And the market wants to pay even quicker – Sompo Japan Nippokoa Insurance is introducing a flood insurance policy for businesses that pays out the very same day that sensors detect a flood disaster.
In cooperation with researchers from Kyoto University, the insurer has developed a sensor system, based on Internet of Things (IoT) technology, that triggers a payout once the sensors detect a certain level of water.
Hiscox's exit
However, the typhoons have fundamentally disrupted some areas of the reinsurance market. Hiscox, for example, has decided to no longer write casualty reinsurance as a result of a stormy 2019.
"The ongoing, challenging market conditions mean that writing casualty reinsurance business is no longer sustainable for us." A Hiscox spokesperson
Exposure to the Japanese windstorms is primarily through Hiscox Re & ILS, and losses from Hurricane Dorian in the US are contained mostly within Hiscox London Market.
A Hiscox spokesperson bluntly commented: "The ongoing, challenging market conditions mean that writing casualty reinsurance business is no longer sustainable for us."
Based on an insured market loss of US$10 billion for Typhoon Faxai, and US$15 billion for Typhoon Hagibis and US$8 billion for Hurricane Dorian, Hiscox has reserved net US$165 million to cover claims from the three storms.
Axis Capital is the latest reinsurer to peg losses from the storm.
Most will be sticking with Japan and nat cat risk; as Bobby Heerasing, chief executive Asia Capital Re, recently told InsuranceAsia News: "Hagibis has not put us off Japan but we need to address the rating fundamentals; we remain committed to the market."
Meanwhile, the Swiss Re Institute is predicting that the global nat cat reinsurance market is forecast to grow to US$40 billion in four years up from US$30 billion this year, and Swiss Re is not shying away from growing its nat cat book as it seeks to double its overall business in Asia over the next five years.
While everyone will be hoping mother nature has a more pleasant 2020 in store for the Tokyo Olympics, we know, whatever happens, the market will not shirk its responsibilities.