Japan's majors well placed to face Covid-19 fallout
June 3 2020 by Andrew Tjaardstra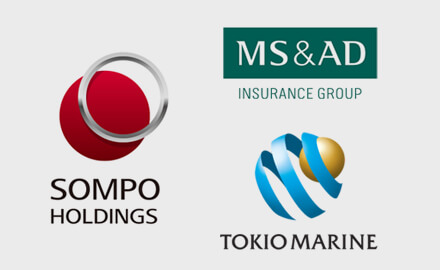 The big three Japanese P&C players are set for a solid, if unspectacular, financial year 2020/2021.
Covid-19 headwinds, the postponement of the Olympic games, a trade dispute with South Korea and the forthcoming nat cat season are conspiring to make it a tricky upcoming 12 months domestically.
On June 2 the number of confirmed Covid-19 cases were 16,930 and the number of deaths were 894. These are by far the lowest figures among the G7 and shows the effectiveness of a population wearing masks at keeping the disease under control.
Japan's prime minister Shinzo Abe ended the national state of emergency at the beginning of this week – June 1.
Japan's response is fitting with Asia's overall approach to handling the virus which has alerted the world's investors.
Profits
The pandemic follows a difficult 12 months for the nation's top three P&C players whose financial years end at March 31.
On the positive side, domestic combined ratios at MS&AD, Sompo Holdings and Tokio Marine were below 100% despite 2019 being a year of record high natural catastrophes. The three insurers have paid out a staggering US$10 billion in claims for storm damage over the fiscal year – helping hundreds of thousands of customers recover from business and personal losses.
"The coronavirus outbreak will strain upcoming premium growth and profitability. We expect insurers to be challenged in maintaining growth and profit momentum in their results for the remainder of 2020."  Soichiro Makimoto, Moody's 
Showing the advantage of being part of a more mature and sophisticated market, insurers benefitted from the use of reinsurance programs to manage catastrophe risk. Several reinsurers were not so lucky and have since decided to exit the market.
And showing the underlying attractiveness of Japan, combined ratios, excluding natural catastrophes, were at a highly profitable level of just above 90%
MS&AD was hit the worst out of the trio of giants as its after tax profits slumped 25.8% to ¥143 billion (US$1.33 billion). However, its overseas division (which includes Asia ex-Japan and restructured last year) saw pre-tax profit grow to ¥50.7 billion, reflecting a year-on-year increase of ¥28.1 billion.
Sompo Holdings' net profit dropped 16.4% to ¥122.5 billion (US$1.14 billion), but it was also boosted by its overseas division which saw premiums and profits in a dramatic upswing.
Tokio Marine Holdings fared better than the others by booking a net profit of ¥260 billion (US$2.41 billion), only down 5.4% from the previous year.
Tough outlook
Like in many parts of the world, 2020's outlook is uncertain.
Moody's Japan says that the coronavirus pandemic poses the most severe cyclical shock to Japan's economy since the global financial crisis. Apart from the impact on growth, the outbreak will also hinder Japan's fiscal reforms and constrain its progress on addressing long-term structural weaknesses related to an aging population.
Japan's GDP forecast to contract 6.5% in 2020, a sharper decline than the 5.4% recorded in 2009 but roughly in line with other advanced economies. It is then forecast to rebound by 2.7% for 2021, but aggregate economic output will still remain about 5% below pre-coronavirus baseline.
There have been over 200 business failures in Japan so far with the lockdowns set to hit tourism and business travel hard over the next few months.
Soichiro Makimoto, senior analyst, financial institutions group at Moody's, comments: "The coronavirus outbreak will strain upcoming premium growth and profitability. We expect insurers to be challenged in maintaining growth and profit momentum in their results for the remainder of 2020. The sluggish economy amid prolonged disruptions from the coronavirus outbreak will slow premium growth or even result in a contraction in premiums."
Makimoto adds: "Insurers' profitability will also reflect lower investment income and increase in claim payments, such as from event cancellation insurance and business interruption insurance, but we expect the overall impact to be manageable."
The insurers' results will also partly rely on the extent of Japan's typhoon season.
Diversified
The three firms will be looking for their ex-Japan operations to have another good performance this year but these markets are likely to be much tougher.
It's going to be a long hard year for Japan's major players – along with everyone else.