Is Thailand's digital motor revolution unstoppable?
February 13 2019 by Andrew Tjaardstra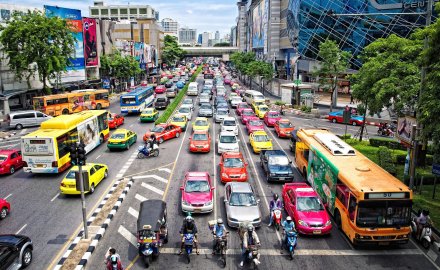 Digital and insurance are finally connecting as one in Thailand.
Online motor player Roojai, which launched in 2016, is similar to a managing general agent (MGA) as it 'manufactures' the product with an insurance partner — Krungthai Panich Insurance of the Krungthai Bank Group. Roojai then prices the insurance, distributes it online — issuing policies and managing claims.
There are a handful of competitors with a similar model, including: DirectAsia (underwritten by Falcon), Easy Sunday (underwritten by KSK Insurance) and Frank (which uses Bangkok Insurance for motor), while Dhipaya-owned Tipinsure and Tokio Marine-owned Drivedee are also in the market.
A host of digital brokers and comparison sites are looking to capitalise on improving internet connectivity and a changing buying culture. Thai players in this space include BHL Group's EasyCompare, GluayGluay, GoBear, Masii, Money Guru, Prakunrod, Rabbit Finance and Silkspan.
Harprem Doowa, managing director and co-founder at Frank, commented: "Digital distribution is making it a lot easier for the customer to compare the products that are on offer. This results in two things: companies who are short-term thinkers, start to dump prices to compete, while companies who see the big picture are starting to realise that there needs to be other ways to stand out through product design, benefits, and ease of use."
He noted: "Both of which are good for consumers as not only are they getting access to more products, they are getting access to better products at lower prices."
The focus on digital is bringing Thailand into line with western markets such as the UK, where online motor insurance has been popular for well over a decade – often to the annoyance of the public who are bombarded by cheesy television and radio advertisements for comparison sites such as Compare the Market, also owned by BHL Group, and Go Compare.
Chonburi-headquartered Roojai achieved 100% growth in 2018 and the company now expects to double its portfolio and reach Bt650 million of premiums by the end of 2019.
Roojai's chief executive and founder Nicolas Faquet is confident in the potential of the model. He said: "The number of visitors to the [Roojai.com] website has increased by 44% compared to the previous year. The conversion of the visiting customers has improved by 20% and allowed us to increase our new customer sales by 70%."
However, one senior Thailand market source told InsuranceAsia News the market is challenging for insurers as the cost of advertising is high and it can be difficult to make a profit out of motor insurance in the country. He added that although the online market is growing fast, it is growing from a small base.
Luckily for Roojai, Faquet is finding success with one of the cheapest and most successful modes of marketing — word of mouth. He said: "Word of mouth from our existing customers has helped us to drive more new customers and we know that 20% of our new customers are being referred by their friends who already purchased our products."
The International Finance Corporation, an investment arm of the World Bank, certainly believes in the model. Last year they made a US$7 million Series A investment in Roojai.
As competition intensifies it will be intriguing to see if insurers, MGAs, brokers and comparison sites can combine growth with profits in the future.