Insurers tasked to fund disaster relief in poor nations
July 28 2017 by Nick Ferguson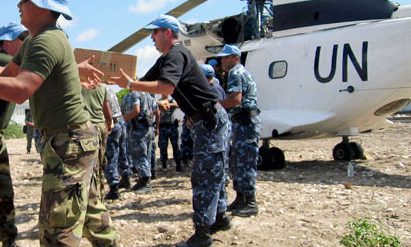 Development ministries in the UK and Germany are funding an initiative that will use insurance to make international aid more effective in disaster-prone developing countries.
At the International Insurance Society Global Forum in London, the UK pledged US$39 million to a new Centre for Global Disaster Protection, while Germany pledged a further US$23 million to a linked trust fund. With administrative support from the World Bank, the centre will open in early 2018.
The goal is to tailor country-specific disaster risk financing mechanisms to help vulnerable communities. Asia's poorest countries are particularly exposed to natural disasters, from earthquakes in Nepal to flooding in Bangladesh and wind storms in the Philippines.
"The insurance industry is a global risk pool, with trillions in capital that can absorb the costs of big, rare shocks like natural disasters," said Michael Bates, the UK's international development minister, in his forum address. "Our job as development partners is to support countries to design and use the instruments that are right for them in managing their own risks."
The initiative builds on an assessment conducted by RMS into disaster losses and aid payments, and how insurance schemes could feasibly reduce the financial burden of such events in some of the world's poorest countries.
Across the 77 countries included in the research, RMS concluded that economic losses from natural disasters averaged US$29 billion a year, with major once-a-decade losses of US$47 billion — of which, only 5% (US$2 billion) are covered by insurance and 12% (US$6 billion) by humanitarian aid, leaving US$39 billion that must be met by the people directly affected or by their governments.
RMS forecasts that insurance schemes have the potential to reduce the severity of these major losses by US$11 billion, or 24%, by the end of the decade.
"There are of course barriers to stimulating the growth of risk transfer in the world's poorest countries," said Daniel Stander, global head of the public sector group at RMS, in a blog post. "Typically, there is no mature domestic insurance market to leverage. Nor are there sufficient government resources to fund sovereign-backed insurance schemes. Without a concerted effort, the role of risk transfer in disaster recovery would largely remain at current levels."
The joint UK-German initiative complements the Insurance Development Fund launched a year ago in Singapore, which is a public-private partnership of the World Bank, the UN Development Programme and several global insurers.
"This is a big step toward activating our common mission as a critical public-private partnership empowered to take on the enormous problem of under-insurance in at-risk developing economies," said Stephen Catlin, chair of the Insurance Development Fund, during a session at the IIS forum.
He added that the lack of an insurance safety net in much of the world "is a global problem no one organisation, company or individual can solve alone".
The G7 has also launched InsuResilience, a commitment to increase climate risk insurance protection to an additional 400 million people in emerging and developing countries by 2020.
Such efforts also serve the goal of expanding the role of insurance into under-penetrated markets, but if they can succeed in reducing human suffering caused by natural disasters they deserve to be lauded.