Insurer powers Formula E debut in Hong Kong
October 7 2016 by Nick Ferguson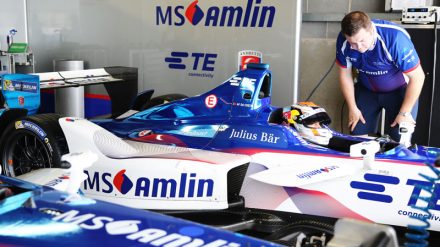 Two of the electric racing cars lined up on the streets of Hong Kong's harbourfront this weekend are powered not only by glycerine-generated electricity, but also by some of the data-crunching expertise of an insurance company.
The MS Amlin Andretti team is one of 10 vying to win the season-opening race of the Formula E championship, which is coming to Hong Kong for the first time. Two data analysts from MS Amlin are seconded to the team to help model and analyse the vast quantities of data generated by the cars. Strategy is a crucial aspect to the racing as the deployment of the cars' battery power is a key determinant of success.
The insurer says that it is involved in the formula as part of a commitment raise awareness of the risks posed by climate change and pollution, and to encourage reduced reliance on fossil fuels.
"30% to 40% of global risks have a climate element," says Adrian Britten, MS Amlin's head of communications, who is in Hong Kong with the team. "We're exposed to this, so we're very interested in efforts to reduce climate risks."
It was with some disappointment, therefore, that teams reacted to news that the organisers in Hong Kong chose to limit the opportunity to spread awareness by erecting screens around the circuit to keep freeloaders at bay.
Ironically, Hong Kong's climate could play a deciding role in the race. In keeping with its ethos of sustainability and minimal waste, the formula uses the same type of road-legal, grooved tyres in all conditions. With tropical cyclone Aere passing south of the city during race weekend, the compromise tyres and high-torque electric motors could prove to be a handful even for the seasoned racing drivers competing around the Hong Kong circuit.
The batteries used in the cars have a 32 kilowatt capacity, of which 28KW is allowed to be used during the racing, which lasts roughly half the distance of the race, at which point the drivers jump into a second car and complete the race. It is hoped that battery technology should have advanced sufficiently to allow the cars to complete an entire race on one battery within two or three seasons.