Insurance for the sharing economy
April 13 2018 by Nick Ferguson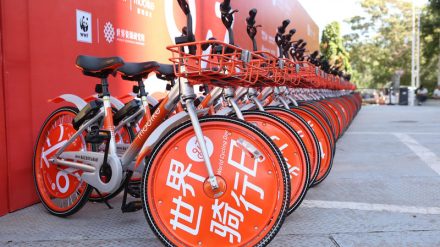 The extraordinary growth of the sharing economy is creating new risks that provide an opportunity for insurers, particularly in China.
While consumers in America are in the midst of a public revolt against Facebook over privacy issues, Chinese consumers generally show less concern about privacy and the use of internet services, which has allowed China to lead the world in the growth of new platforms such as online shopping and bike sharing.
China's top two bike-sharing companies, Mobike and Ofo, handle a combined 50 million rides per day, leveraging digital innovation to make renting dockless bikes that can be left almost anywhere easy and affordable.
China's State Information Centre reports that the market value of the country's sharing economy sector reached Rmb4.5 trillion (US$680 billion) in 2017, compared with Rmb3.45 trillion in 2016 and is expected to maintain annual growth of about 40% during the next few years.
A new report released this week by Lloyd's, which analyses perceptions of risk in the sector, show clear regional differences in attitudes, with the Chinese engaging most heavily with the sharing economy, both as consumers of shared products and services, as well as providers of shared products and services.
For 58% of consumers in the UK and US the risks outweigh the benefits of using the services, whereas Chinese consumers are more positive, with 68% perceiving greater benefits than risks.
But the ease with which Chinese consumers have embraced these new services does not mean they are unconcerned about risk. In fact, well-designed protection can help the growth of these new markets. ZhongAn, for example, has sold billions of small policies to online shoppers, helping to fuel China's emergence as the world's biggest market for e-tailers. There may be a similar opportunity in the sharing economy.
"The sharing economy itself created a new risk landscape with many untested assumptions around who should be managing risks and liabilities," said Trevor Maynard, head of innovation at Lloyd's. "Because of this, insurance can play a significant role. As these risks are addressed and written in our market, we see the power insurance has to give consumers peace of mind and providers and platforms confidence to grow."
According to Lloyd's the top sharing-economy five risks for consumers globally centre on personal safety, quality of service, damage to assets, theft and lack of sufficient safeguards in the event something goes wrong.
"Based on our findings, instilling consumers with confidence by clearly defining and protecting against risk can help remove barriers to engagement in the sharing economy," said Vincent Vandendael, chief commercial officer at Lloyd's. "There is no doubt shared platforms are growing at a lightning pace, so it's important that the insurance products created for these companies are able to grow and change with them — from a 10-person startup to a global disruptor."
Nevertheless, there are some challenges for insurers. Many businesses in the sharing economy occupy a grey area between the formal and informal economy. For example, a business such as Airbnb undoubtedly competes with hotels for room nights, but the person renting out their apartment can be breaking the law in many countries around the world. Uber operates in a similarly grey area in many places. And China's proliferation of bike-sharing companies has become a scourge in some cities, with abandoned bicycles blocking sidewalks and generally annoying residents and authorities alike.
On the face of it, these grey areas are a problem for insurers. Hotels and taxis buy insurance, whereas Airbnb hosts and Uber drivers may not be able to in markets where their legal status is uncertain.
However, such concerns might be transitory. As regulation catches up with the sharing economy, insurers will be in a better position to create innovative and new pricing models to address the unique risks that these businesses encounter.
Indeed, Lloyd's says there are already 10 syndicates on its platform providing sharing-economy insurances, covering financial and professional lines, general liability, cyber, business interruption, travel, personal accident and automotive.
Even where the sharing economy exists on sound legal footing, there are still challenges that will require clever underwriting solutions. Airbnb's three million listed properties, for example, typically do not have a detailed level of information — things like 10 years of loss data, property characteristics, how close it is to the fire station or whether it is built on an earthquake fault line.
Solving these problems could help to unlock significant growth for insurance providers in China.