Insolvencies slow in Asia as China's stimulus works
April 15 2019 by Andrew Tjaardstra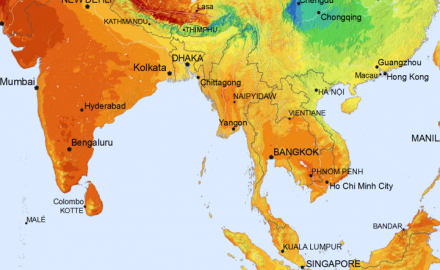 Global trade is expected to pick up in the second half of 2019 as trade tensions diminish and China's economic stimulus produces positive effects.
However overall global trade is expected to grow 3% in 2019 compared with 3.8% in 2018; it is expected to slow to 2.7% growth in 2020 — mainly as a result of expected US weakness in economic activity.
Speaking at a presentation in Hong Kong last week, Alexis Garatti, head of macroeconomic research at Euler Hermes suggested the US China dispute has yet to turn to a trade feud but is very close to it; a 25% tariff on US$200 billion imports from China; the average US tariff rose to 5.2% in 2018 and it would cross the 6% "feud threshold" if US president Donald Trump was to increase it.
Global insolvencies are expected to slow to a rate of +7% compared with +8% in 2018 with a 20% increase expected in China (compared with +60% in 2018).
In Asia last year there was a rise in major construction insolvencies with 11 extra cases to 23, seven extra cases in agrifood (to 12) and six extra cases in energy (to seven) and six (from zero in 2018) in computer and telecom failures.
The Asia-Pacific economy is expected to be spurred by China, India, Indonesia and Japan over the next two years but overall GDP growth is expected to fall from 4.7% in 2019 to 4.4% in 2020. China's size means it will contribute to one third of global growth and 61% of Asia-Pacific growth. The fiscal stimulus of Rmb4.15 trillion (US$650 billion) or 5% GDP which included Rmb2 trillion of tax and fee cuts and Rmb2.15 trillion in infrastructure spending is set to boost the economy.
Meanwhile the Belt & Road project is set to boost global trade flows by US$117 billion with Indonesia, Malaysia, the Philippines, Singapore, South Korea, Thailand and Vietnam all benefiting.
The Allianz-owned trade credit insurer notes that exports will be driven by the electronic and electrical sectors while imports will be driven by the demand for industrial commodities, electronic, electrical and machinery equipment.
Aon's 2019 Heat Risk Map suggests the Belt & Road initiative is a growing opportunity for insurers to plug an increasing protection gap.
Stephen Taylor, head of credit solutions, Asia, Aon said: "As the Belt & Road investment trend continues, the use of credit and political risks insurance will grow, either where the lender is covering non-payment of debt or where corporations insure their assets and equity investments against risks such as currency inconvertibility and expropriation."
The Asia Development Bank is estimating that the infrastructure gap across 25 developing Asian economies amounts to US$469 billion annually, meaning significant opportunities for development.
The report notes than businesses in East Asia and the Pacific currently take an average of 100 days to import/export, in stark comparison to the 10 to 15 days taken by firms operating in G7 countries; the Belt & Road could help to drive down the time taken to do business.
China is still driving the world's economy and the rebalancing to consumer driven economy means it could match US consumption power by 2040.