Indonesia worst hit from March's Asia nat cat activity
April 14 2020 by Andrew Tjaardstra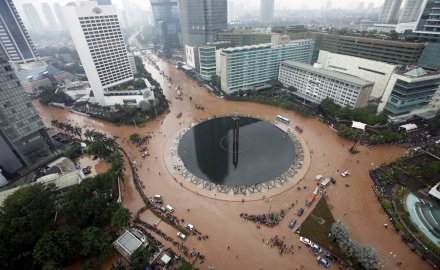 In a relief for the market there was relatively benign nat cat activity across Asia-Pacific last month according to Aon's latest Impact Forecasting Global Catastrophe Recap.
Indonesia saw the brunt of the weather, with heavy rainfall in the first half of the month resulting in flooding events across the country. At least 30,000 homes were damaged or destroyed which will likely translate into millions of dollars of economic damage and insured losses.
The event affected at least 55 villages in Sangkub, Bintauna, West Bolangitang and East Bolangitang Districts. According to the National Board for Disaster Management (BNPB), nearly 8,000 homes and other structures were damaged or destroyed; economic losses are Rp104.4 billion (US$7.2 million).
Heavy rains also hit North Sulawesi Province and West Java Province of Indonesia from March 4 to March 6; two people were killed and more than 350 homes were damaged.
The flooding came after some severe storms in Jakarta in January which resulted in over US$79 million of insured losses; more flooding returned to the capital in late February.
In north Vietnam, thunderstorms from March 21 to March 25 affected multiple provinces including Lao Cai, Lai Chau, Son La, Yen Bai and Dien Bien. Local disaster management officials confirmed damage to more than 5,400 homes and 25,000 hectares (61,750 acres) of arable land, with economic losses of at least Vnd94.5 billion (US$4.1 million).
Also in Vietnam, a wave of severe thunderstorms impacted at least seven provincial regions from March 2 to March 5.
Three people were killed and 16 others were injured. The inclement weather prompted damaging winds, large hail, flooding, and lightning that affected Yen Bai, Ha Giang, Tuyen Quang, Lai Chau, Lao Cai, Cao Bang, and Son La. Vietnam's Disaster Management Authority said that 7,187 homes and other structures were damaged or destroyed, with some of the worst-hit areas in Ha Giang.
Meanwhile, in China's Sichuan province at least 19 people were killed in a wildfire in on March 31, of whom 18 were firefighters. The economic impacts, including the potential insured losses, have yet to be determined.
Landslides and localised flooding also affected central and southern provinces of China on March 31. According to media reports, seven people were killed in a landslide in Guizhou Province. In Chenzhou City of Hunan Province, a train derailed due to a rain-induced landslide resulting in one fatality and 127 injuries.
In Iran, seasonal floods in southern Iranian provinces, which started in late February, continued through late March, notably in Kerman, Lorestan, Fars, Khuzestan, and Kohgiluyeh and Boyer-Ahmad, resulting in at least 16 fatalities. Governmental officials estimated that the seasonal floods resulted in agricultural losses of at least US$120 million alone so far, with Fars and Kerman among the worst hit.
Meanwhile, Australia and New Zealand also had a quiet month of nat cat activity after a long, tumultuous battle with flooding, hailstorms and bushfires over the summer.