Indonesia relaxes foreign ownership, steps up bailout
February 7 2020 by Nick Ferguson
Indonesia has further relaxed rules on foreign ownership, less than two years after its previous rule change.
The new regulation will make it easier for established foreign insurers in the country to inject capital into their Indonesian units without diluting ownership, which had become a concern after the rule was introduced in 2018.
Although Indonesia has officially capped foreign ownership of insurance companies at 80% for many years, it was possible for foreign insurers to dilute the stake held by the minority shareholder and many therefore ended up owning far more than the official limit in practice — AIA, Allianz, Axa, Prudential and Manulife all own more than 90% of their units in Indonesia.
The change in 2018 was intended to clarify the situation by allowing foreign firms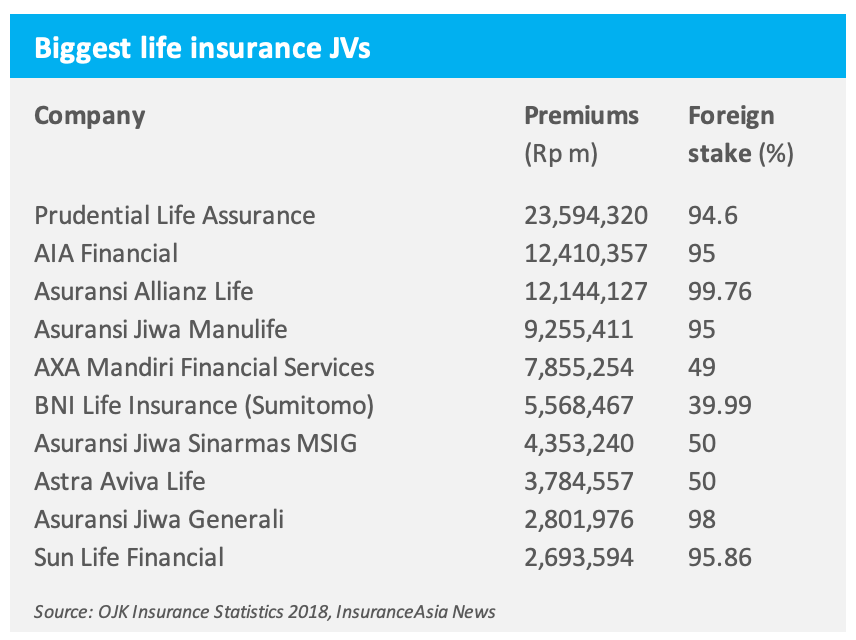 to keep their existing ownership levels while preventing any further increases in ownership. In other words, Prudential could continue to own 94.6% of its Indonesian business, but could not go beyond that level.
And that would have been fine. But the rule also sought to reaffirm the ownership limit on new investments, requiring that local shareholders must subscribe to at least 20% of any future capital raising — or, in the case of public companies listed on the stock exchange, at least 20% must be offered to the public.
Whether intentional or not, this had the opposite effect of the previous state of affairs, meaning that foreign insurers would end up diluting their own shareholding when they injected fresh capital into their business in Indonesia. For example,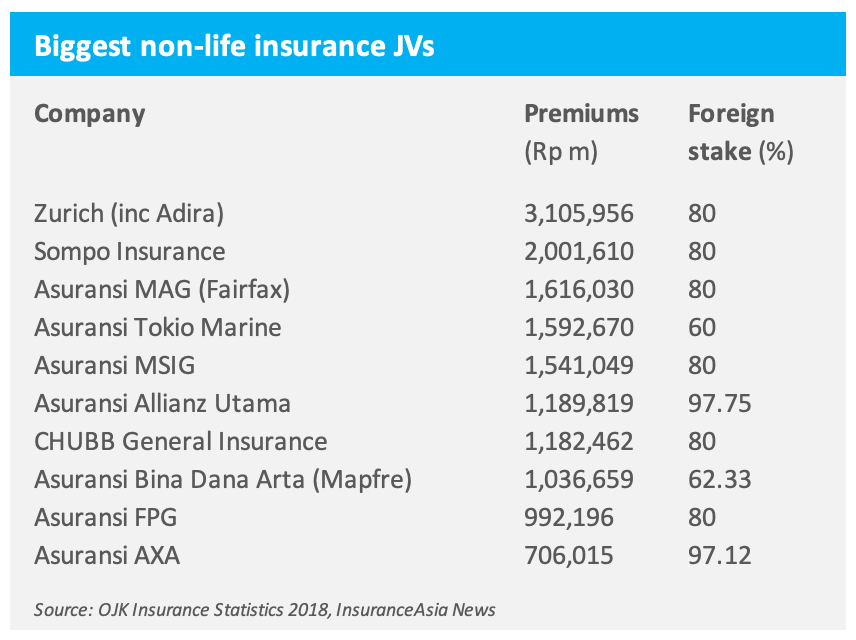 Prudential's stake would fall from 94.6% to 93.3% if it increased its Indonesian unit's capital by 10% under the 2018 rule.
Grandfathering
The new rule appears to change this requirement, according to Jonathan Tjenggoro, a senior associate at Indonesian law firm Makarim & Taira S.
"In our understanding, if initially the insurance company is 90% foreign owned, 10% of the capital increase must be subscribed by local shareholders or offered to the public via IPO, so eventually a 90% foreign shareholding is maintained," he says.
However, if the foreign owner lets its stake fall below that level, to 85% for example, then it can't go back to 90% ownership.
"Going forward, 85% will be the new grandfathered limit and the foreign shareholder cannot go beyond 85%," says Tjenggoro.
The rule shouldn't affect recent foreign investments, such as Zurich's acquisition of an 80% stake in Adira from Bank Danamon, which made it the biggest foreign P&C player in Indonesia, with 50% more business than its nearest competitor. Zurich owns 84% of its smaller, pre-existing Indonesian life business, but the stake in Adira will not be able to move above 80%.
Similarly, Danamon is stuck with its 20% stake. The only way it can exit this remaining holding is through a sale to a local shareholder, which is unlikely, or through an initial public offering, which would have to be initiated by Zurich.
In the case of a merger, Zurich would presumably be capped at 80% ownership of the merged entity.
Holding company
The new rule should provide some certainty as the government seeks to resolve problems at the country's troubled state-owned insurers, possibly through the sale of some assets to potential foreign buyers.
The government said this week that a holding company would be established later in February to bailout the market, with Jasa Raharja, Jasindo, Jamkrindo and Askrindo all to be incorporated under the new company.
However, the most high-profile government-owned insurer, Asuransi Jiwasraya, has yet to be included as the government continues to discuss rescue options with the finance ministry and market regulator.
"The holding company is not just for saving Jiwasraya, but to strengthen the insurance industry's transformation starting from its finance, risk management, investment management and product management to its actuarial aspects so we won't repeat the same mistakes as Jiwasraya did," said Kartika Wirjoatmodjo, Indonesia's deputy minister at the state-owned enterprises ministry.
While the new rule on foreign ownership provides welcome clarity, it may not do much to attract foreign bids for Jiwasraya or any of these indebted state-owned insurers. Ownership limits were largely ignored in the wake of the Asian financial crisis in the late 1990s, when the government was desperate for foreign capital to rescue financial institutions and other businesses. It remains to be seen if similar accommodations will be made for Jiwasraya.