India to revisit nat cat pool following latest cyclone
June 2 2020 by Yvonne Lau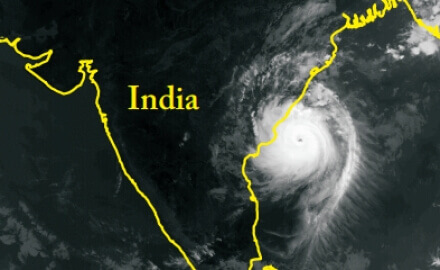 The Indian government is revisiting the idea of establishing a national natural catastrophe insurance pool, following Cyclone Amphan which hit India in late May.
Amphan was the strongest-ever storm to form in the Bay of Bengal, and will likely trigger hundreds of millions of dollars in claims.
"After Cyclone Amphan, a consensus is emerging that… traditional insurance products may not fit to cover events of such a large scale; that there should be [coverage] for dwellings and physical belongings during a natural catastrophe," a state official told Money Control last week.
The government is in discussion to reassess a nat cat risk pool that would cover general property, housing and other dwellings — from cyclones, floods, earthquakes and other natural perils that India is exposed to.
A nat cat pool has yet to be set up due to internal disagreements on a specific structure and set up. It has not yet been disclosed which (re)insurers and companies would be involved.
Cyclone Amphan hit India's east coast and neighbouring Bangladesh in the second last week of May; the provinces of West Bengal and Odisha in India were among the worst affected. At least 86 people were killed, and 500,000 families may be homeless in Bangladesh.
In the province of West Bengal, the storm has already cost economic losses of US$13.1 billion, noted Indian state officials.
Abhijit Chatterjee, executive vice president and head of claims at IFFCO Tokio General Insurance, told InsuranceAsia News (IAN) last week: "We expect huge property and marine losses, motor claims in the retail segment as well as crop insurance claims. The claims have started trickling in. Events like these are a grim reminder that insurance is the only form of protection to tide over the financial losses."
The discussion for a national natural catastrophe pool therefore, cannot come soon enough.
In the last few years, India has seen a spate of devastating natural catastrophes. In 2019 alone, there were 409 natural disaster events in the country, from monsoon rains and floods that caused significant human and economic damage.
The National Insurance Company (NIC), a state-owned insurer, has already received 500 claims from Amphan — at an insured loss of around US$21.1 million. The majority of the claims have been filed from businesses, shops and factories. Meanwhile, ICICI Lombard, an Indian P&C player, has received 165 property claims and 51 motor claims to date.