Iffco Tokio General Insurance promotes Rashtrawar to CEO
April 15 2020 by Yvonne Lau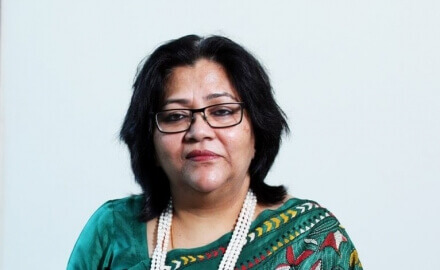 India-based Iffco Tokio General Insurance (Iffco-Tokio) has appointed Anamika Roy Rashtrawar as chief executive and managing director.
Rashtrawar (pictured) succeeded Warendra Sinha, who has retired from the company after three years at the helm. According to a statement, the appointment means Rashtrawar, who started on March 27,  is "the first [female] managing director and chief executive of a large private sector general insurance company in India."
Before her current role, Rashtrawar served as Iffco-Tokio GI's whole-time director since June 2018, looking after strategic growth and business development. She "spearheaded the company's business transformation project and expanded the [firm's] operations in tier two, three and four towns," according to her LinkedIn profile.
Her general insurance experience spans three decades, including a seven-year stint at Bajaj Allianz General Insurance where she was president. Rashtrawar set up the "all-women branches in Bajaj Allianz [in addition to] working across all functions of a general insurer," she says on LinkedIn. She also held roles at Tata-AIG General Insurance and National Insurance Company.
Satoru Komiya, president and group chief executive of Tokio Marine Holdings, commented: "We are excited that Rashtrawar, a professional with 30 years of industry experience, will lead one of our most important joint ventures. [We] are confident that she will continue building the company and position [of] Iffco-Tokio as the leading general insurer in the Indian market."
Iffco-Tokio GI, formed in 2000, is a 51:49 joint venture between the Indian Farmers Fertiliser Cooperative (Iffco) and Tokio Marine Group Holdings headquartered in Japan.
The Japanese giant upped its stake in the JV in 2015 after the Indian government relaxed regulations to allow foreign entities to increase their holdings to 49%.
Tokio Marine is on a bid to increase its business in India and boost its overseas premium growth by up to 50%. Managing executive Noboru Yamagata said last June that they will engage in mergers and acquisitions of insurance firms in India (and Thailand) to drive this overseas growth. The insurer is targeting an increase of 20% in 2020, from 10% in 2018.