ICICI Lombard GI's FY profit climbs 24%
May 4 2020 by Andrew Tjaardstra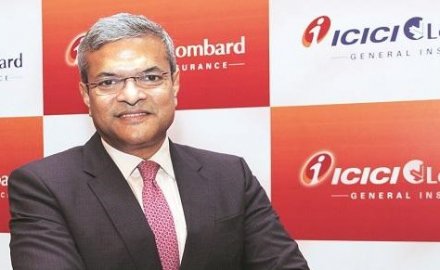 For the fiscal year (FY) ending March 31 2020, ICICI Lombard General Insurance saw a 8.1% gross written premium (GWP) decline to Rs13,313 crore while overall net profit increased 23.8% to Rs282 crore (US$37.3 million).
However, excluding crop insurance, ICICI Lombard's GWP rose by 10.5% over the year to Rs 13,302 crore.
The insurer attributed the profit rise to a reduction in underwriting losses; for example, the underwriting loss reduced to Rs29.4 crore in Q4 2020 as compared to Rs49.7 crore in Q4 2020.
Bhargav Dasgupta, managing director and chief executive ICICI Lombard General Insurance, said that the reduction in underwriting losses was part of a deliberate strategy to reduce crop insurance and also due to pricing improvements in segments like fire insurance.
Dasgupta (pictured) added that the company will continue to monitor crop insurance closely.
He also said that Covid-19 is not a balance sheet risk right now since health insurance penetration is low, but warned: "Losses could rise in unoccupied properties since there is nobody looking after the premises. When businesses restart, claims may come up."
ICICI Lombard took an impairment hit of Rs120 crore in Q4. The mark-to-market losses in the equity book were Rs550 crore at the end of FY 2020, however, the overall net investment income rose by 33.6% year on year to Rs418.37 crore in Q4 2020.
GWP stood at Rs3,181 crore for Q4 2020 compared to Rs3,485 crore in the same period the previous year; excluding crop insurance GWP rose by 2.9% year over the year to Rs3,244 crore. All business segments except retail health and motor posted an underwriting profit for Q4.
Dasgupta said that motor losses are a result of pricing competition. Underwriting losses in motor stood at Rs95.45 crore for Q4 2020 compared to loss of Rs155.48 crore in Q4 2019; the overall combined operating ratio was 100.1% for Q4 2020 compared to 99% in Q4 2019.