ICA praises Sydney hailstorm payout effort
April 22 2019 by InsuranceAsia News Staff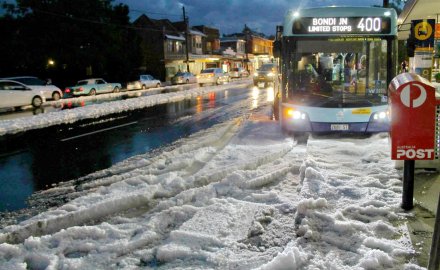 Almost 50% out of 136,424 insurance claims received after December's powerful hailstorm in New South Wales have already been resolved.
The Insurance Council of Australia (ICA) said the claims' bill from the December 20 storm has reached A$1.27 billion (US$910 million). The storm caused severe damage across suburban Sydney and many regional communities; almost 95,000 private and commercial motor vehicles were damaged or destroyed.
The storm was a large drain on the nat cat allowances of many of Australia's largest insurers.
Tens of thousands of households lodged home and contents claims, with most suffering damage to roofs, guttering and walls, as well as internal damage caused by water entering properties.
ICA's general manager communications and media relations Campbell Fuller commented: "Insurers have made rapid progress over the past 17 weeks to get families back into their homes and motorists back on the roads, despite the enormous pressure on builders, tradespeople and smash repairers.
"Sydney was hit by several severe early summer storms, which had put the motor vehicle and home building repair supply chains under pressure before the December 20 storm hit.
"Insurers are focused on working with property owners to agree on scopes of works, particularly for repairable roofs, in line with their policies. The industry has been harnessing available repairers, tradespeople and builders who are qualified, reputable and competitive, to undertake and complete outstanding work."
Almost 50% of 30,738 residential building claims have been completed, and more than 41% of 94,822 motor vehicle claims have also been closed.
Insurers have held hundreds of one-on-one consultations to identify and resolve issues.
The hailstorm was the first of three summer catastrophes declared by the ICA. Losses from the monsoonal deluge that struck Townsville in February have reached A$1.13 billion from 27,355 claims, while the Bunyip bushfires in late February resulted in A$19.6 million in insurance losses from 365 claims.