Harmer updates on Covid-19 as IAG completes India sale
March 31 2020 by Andrew Tjaardstra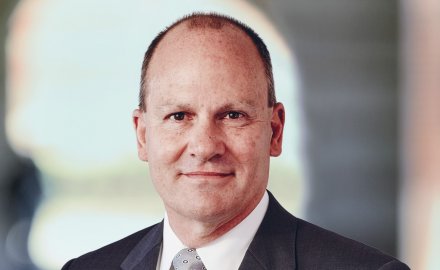 IAG has reaffirmed its FY 2020 guidance despite the ongoing complex ramifications of Covid-19 for the Australian and global economies.
Overall its business appears robust with insurers better able to handle recessions.
In addition, IAG has completed the sale of its 26% stake in India's SBI General for US$432 million to Premji Invest and Warburg Pincus, a deal that will deliver a net profit on sale of A$310 million (US$190.6 million) to the firm; for more on the sale see here. IAG's shares climbed 11% to A$6.40 on March 30.
However, the insurer's technical reserves suffered an unrealised loss of A$100 million (US$61.5 million) because of the recent widening in credit spreads.
IAG's managing director and chief executive Peter Harmer provided a business continuity update, noting that the company's tech team has set-up Australia's team to work remotely. Harmer (pictured) confirmed that over 90% of staff are already working from home.
In contrast rival QBE has dropped its FY 2020 profit guidance, with QBE's chief executive Pat Regan citing the "extraordinarily difficult times" caused by the coronavirus crisis.
QBE withdrew its 2020 guidance for net investment returns of 2.5% to 3% and the combined operating ratio of between 93.5% to 95.5%. QBE's premium rate growth has continued in the first quarter, while its liquidity and capital position are strong.
However, the global player issued the following statement: "In light of the unprecedented Covid-19 pandemic and uncertain economic and investment market outlook, we consider it prudent to withdraw those previously advised targets."
The firm is also in the process of shedding 200 jobs.
Australia's government is trying to provide certainty to a worried population that are already facing a very uncertain short term economic outlook. The scale and speed of the spread of the coronavirus has shocked governments and businesses across the world with few certainties of when the world could return to some sense of normalcy.
The Covid-19 outbreak has led an increasing number of Australian SMEs to cancel their policies, according to figures released by BizCover, an online aggregator connecting SMEs and insurers.
The increase in policy cancellations began in early March.
By March 24, "policy cancellations by SME operators increased dramatically – by 51% above the average cancellation levels seen in February. This is a level we have not witnessed in our business before," said Michael Gottlieb, chief executive of BizCover.