Hurricane Dorian slams Bahamas, approaches US
September 4 2019 by InsuranceAsia News Staff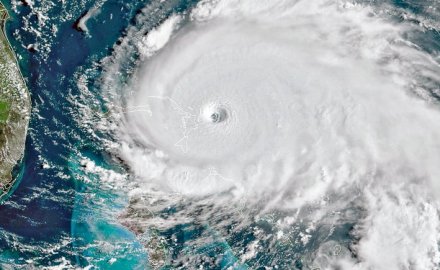 The slow moving storm could cause at least US$25 billion of damage according to UBS.
If it is a category 5 storm when it hits the eastern coast of Florida, it could inflict losses of up to US$40 billion, according to analysts; the Carolinas and Georgia are also on high alert and over a million have been evacuated .
The last natural disaster to cause more than US$25 billion of insured damages was Hurricane Maria in 2017, according to Munich Re, which compiles a database of the biggest losses; this storm could pose a stern test for the ILS market.
Data modeling firm RMS said Dorian rapidly intensified into a category 5 major hurricane prior to making landfall at Elbow Cay on the Abaco Islands in the northern Bahamas. The system then made a second landfall in Marsh Harbour, followed by a third landfall over the eastern end of Grand Bahama Island.
RMS said there have been few similar hits on the Bahamas. Hurricane Matthew, the fifth hurricane of the 2016 Atlantic season, has been one of four category 3 and 4 storms to hit Abaco and Grand Bahama causing US$1 billion of wind and storm surge damage.
Dorian achieved a peak intensity of 295 km/hr, making it the strongest hurricane to impact the northern Bahamas on record and the tied second strongest hurricane in the Atlantic basin in history.
The hurricane is already tied for the strongest Atlantic hurricane landfall on record with the 1935 Labor Day Hurricane.
Dorian brought destructive hurricane-force winds and catastrophic storm surge conditions to the Abaco Islands and Grand Bahama Island, with wind gusts of up to 354 km/hr and a storm surge in excess of 6 meters.
Early reports indicate that the islands in the northern Bahamas are devastated.
The Red Cross fears that around 13,000 homes have been damaged or destroyed; there is so far limited official damage information.
The National Hurricane Center has warned that power outages across the Bahamas may last for week to possibly months and that most of the area is likely to be uninhabitable for weeks or possibly months.