Hurricane Dorian makes landfall in the Bahamas
September 2 2019 by Andrew Tjaardstra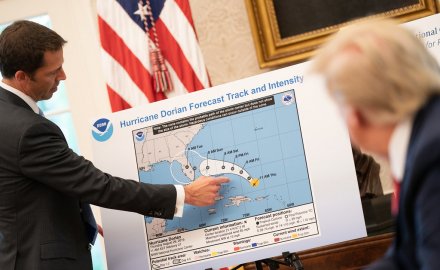 Forecasters have said that slow moving Hurricane Dorian, which has now strengthened to Category 5, is capable of inflicting catastrophic levels of destruction to the Bahamas and parts of the US.
There are likely to be strong winds, large waves and a deluge of rain which will lead to flooding; it will be one of the strongest hurricanes to make landfall in the Atlantic basin.
RMS's models suggesting similar Florida-bound hurricanes have caused between US$11-13.5 billion of insured losses in the past.
National Hurricane Centre computer models indicated Dorian was expected to veer sharply north-east and track up the south-eastern US seaboard, raising the risks of damaging winds and deadly flooding even if there is no direct US landfall. There are set to be evacuations in the Carolinas, Florida and Georgia.
Munich Re said that Hurricane Dorian could cause "considerable flooding", which could impact the National Flood Insurance Program.
US President Donald Trump has been at Camp David in Maryland, monitoring the situation while the Federal Emergency Management Agency is on standby.
The storm will be the first big test for the global reinsurance market this year after a relatively benign first six months of the year.