HKIA urges market co-operation to face challenges
June 10 2020 by Yvonne Lau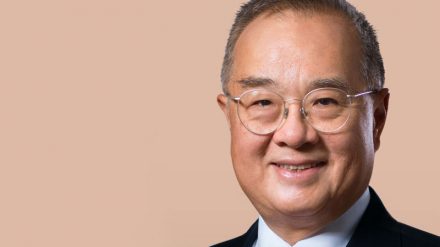 The Hong Kong Insurance Authority's (IA) chairman, Moses Cheng, released a speech yesterday (June 9) addressing the current challenges faced by the SAR — but notes cross-border initiatives will bring "huge new opportunities" ahead.
The first quarter results for the Hong Kong market showed new policy premiums for long-term business declined by 27.5% to HK$35.11 billion (US$4.53 billion) — "a situation not seen since the global financial crisis in 2008," said Cheng.
As the Covid-19 pandemic hit, the IA implemented a series of measures to support policyholders. Cheng (pictured) argued the IA "has always adopted a risk-based, data-led strategy… [while] paying close attention to market changes."
The measures include pilot programmes facilitated by the IA's insurance technology sandbox, to help facilitate consumers' e-channel use for varied services. The IA has also been promoting remote insurance, in order to build a "shared virtual sales platform."
Despite the impact of recent events — the Covid-19 pandemic, the impact of China-US trade tensions and the social and political unrest that has rocked the city — they are optimistic looking ahead.
It will be the cross-border initiatives with the mainland that will create opportunities — such as the Guangdong-Hong Kong-Macau Greater Bay Area (GBA) and Belt and Road (BRI) initiatives. The IA notes that China's Banking and Insurance Regulatory Commission (CBIRC) has made also "breakthroughs" on the development of cross-border insurance products.
And these initiatives taken together, along with a focus on developing Hong Kong as an insurance-linked securities (ILS) hub — will cement Hong Kong's status as a BRI risk management center and regional insurance hub.
Joining a chorus of Hong Kong business leaders and officials, the IA also pledged its support for the controversial national security law crafted by Beijing and expected to be passed as early as next week.
"The National People's Congress passed a resolution at the end of last month to establish laws to safeguard national security for Hong Kong. [These] institutions and enforcement mechanisms help to rebuild a safe and stable social environment," said Cheng.
He added: "[It is also] a prerequisite [in order to] continue attracting foreign investment and professionals [to the city]. Various stakeholders and financial market institutions will support [this move] — just like myself. Under the concept of 'one country, two systems,' Hong Kong must use its unique advantages to serve the long-term development of the country."
The full text and implications of the law have still yet to be finalised.
The IA says that the CBIRC will fundamentally "deepen [its] cooperation" with other regulatory agencies to "safeguard the healthy operation" of Hong Kong's financial system — while developing it sustainably and enhancing its global competitiveness.
Cheng signed off by urging "colleagues in the industry to join hands and work together to enable society to make progress after the pandemic."
For more on the hurdles faced by Hong Kong's life market, see here. 
MORE FROM: Legal/Regulatory