Hong Kong's popularity grows for mainland insurance buyers
December 2 2016 by Nick Ferguson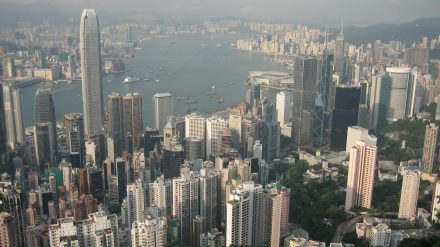 Hong Kong remains a top attraction for wealthy Chinese who want to get their cash out of the country, and insurance products continue to be among the most popular vehicles for doing so.
Beijing officials have tried to restrict such practices, but the authoritarian impulses of the Chinese Communist Party are no match for motivated Chinese buyers and wily Hong Kong salespeople, both keen to max out the US$50,000 individual annual quota for foreign-exchange transactions. Stories abound of credit cards being repeatedly swiped for hours on end in a bid to sidestep restrictions on the size of individual purchases.
The latest data suggests that such stories were not exaggerated. Insurance premiums in Hong Kong grew by 20% during the first three quarters of the year compared to 2015, which saw similarly strong growth. Provisional statistics released by the city's Office of the Commissioner of Insurance show that total gross premiums grew to HK$327.3 billion, with mainland visitors buying HK$48.9 billion of new insurance premiums, representing 37% of the total for the period.
Most of the growth is being driven by non-linked individual life and annuity products, where new premiums rose 45.6% to HK$128.6 billion. Popular policies include long-term endowments, short- and medium-term savings products, and critical illness cover.
"It's not uncommon to see [endowment] policies worth more than HK$100 million being written," according to Chen Dong, vice-president of the China Financial Association of Hong Kong. "Compared with similar insurance products on the mainland, Hong Kong policies have fewer exemptions and offer more flexible ways to draw cash."
Savings products are typically sold through banks with an average maturity of three to six years with a fixed annual return ranging from 3% to 4.5%, though some banks also offer leverage that can boost returns to more than 7%.
"These policies are quite similar to popular universal policies and ordinary policies that have become very popular on the mainland in recent years," said Chen. "As such, it's quite natural for mainlanders to purchase these policies against the backdrop of falling interest rates and the lack of good investment assets on the mainland."
Natural or not, China is adopting a tougher stance on capital flows amid a weakening of the renminbi that saw it lose about 2% against the US dollar during November and more than 6% so far this year. Official moves have been limited so far, but rumours from China suggest that foreign-currency transactions may soon face tougher approvals.
It remains to be seen if such efforts will succeed at quelling demand for Hong Kong insurance products. If they do, the results could be fairly dramatic as the performance of other segments of the industry in Hong Kong underscore the effect of mainland buyers on the overall picture.
For example, premiums in the direct business were up by a much more moderate 2.8%, mainly attributable to accident-and-health and property damage. While the underwriting performance of ships business showed a turnaround from a loss of HK$103 million to a profit of HK$195 million, this increase was offset by a fall in underwriting profits elsewhere. On reinsurance inward business, gross premiums decreased to HK$7.9 billion from HK$8.4 billion and the underwriting profit dropped to HK$347 million from HK$412 million.
Absent mainland buyers, the performance of Hong Kong's insurance industry is decidedly mediocre. Of course, the more desperate China becomes to control capital flows, the more determined its citizens will be to get their money out.